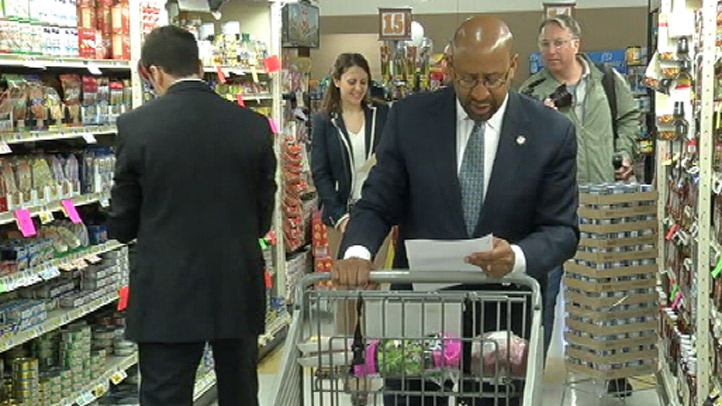 After a week of stomach growling, fatigue and even depression, over 100 local participants finally completed the Food Stamp Challenge. The challenge, which began last week, is a nationwide experiment in which participants live off of $35 worth of food for an entire week, the average amount of food per week a food stamp recipient receives.
The participants in the Philadelphia area included Mayor Michael Nutter, Congressman Bob Brady, Philadelphia Inquirer columnist Annette John-Hall and Brian Gralnick of the Jewish Federation of Greater Philadelphia, a sponsor of the challenge.
On Day 1, Mayor Nutter spoke about the importance of the challenge and how it highlighted what he believes are mean-spirited moves in Congress to cut back on food stamps. One in seven people in the Greater Philadelphia area is on food stamps or SNAP (Supplemental Nutrition Assistance Program.) The average benefit is about $35 a week. Congress plans to reduce the amount recipients receive next year however. In Pennsylvania, Governor Tom Corbett's asset test, which begins in May, would completely drop a recipient if they have $5500 in assets.
Local
Breaking news and the stories that matter to your neighborhood.
"Why in the world would we cut funding for people to eat good food in America?" asked Philadelphia Mayor Michael Nutter. "We feed the world. It's just not fair quite honestly. It's not healthy and it's not good for children. It's not good for seniors."
"We're here to prove a point," said Representative Brady. "Hopefully the visibility and awareness will make some people aware."
Throughout the challenge participants sent pictures of their meals and shared their progress with NBC10. By Day 2, Gralnick claimed he was already tired of eating eggs and toast.
John-Hall spoke with NBC10 on Day 3. "I'm feeling a little hollow and tired," she said. "Tired physically but also mentally tired of just the monotony of eating the same thing every day. I'm moderating a panel tonight and I just don't know how I'm going to get through it because I'm really feeling the fatigue factor."
"I am starting to feel a certain detachment," said participant Mariana. "A shutting down, a sadness that's hard to describe."
"I never ate breakfast at home during the week," said Brian on Day 4. "I always picked up either an egg sandwich or smoothie in town on the way to work but this week I can't afford them. I'm not used to being hungry. It throws me off a bit."
"Most of this week it's been more about a lack of energy than it's been about hunger," said Gralnick on Day 5. "But I've certainly been hungry as well."
When the challenge finally ended on Monday, the participants gathered to share their life-changing experiences. "It was one thing to talk about hunger and be empathetic with people who are on SNAP or take a benefit," said John-Hall. "But it's another thing to do it yourself."