Snow began to fall before daybreak thursday morning in Reading, Allentown and the Poconos.
SNOW THREAT NORTH
We've issued a FIRST ALERT for snow during the a.m. rush Thursday for the Lehigh Valley and Berks Co. It's a small, weak, fast-moving system, but the timing could cause some problems. With temperatures near the freezing mark, any quick burst of heavier snow would reduce visibility enough to make travel difficult. And a bit of it might stick on untreated surfaces and the grass.

Here is the latest high resolution computer model for both 6 a.m. and 10 a.m. Thursday. The blue is snow and green/yellow is rain. In this case, no icy mix is expected.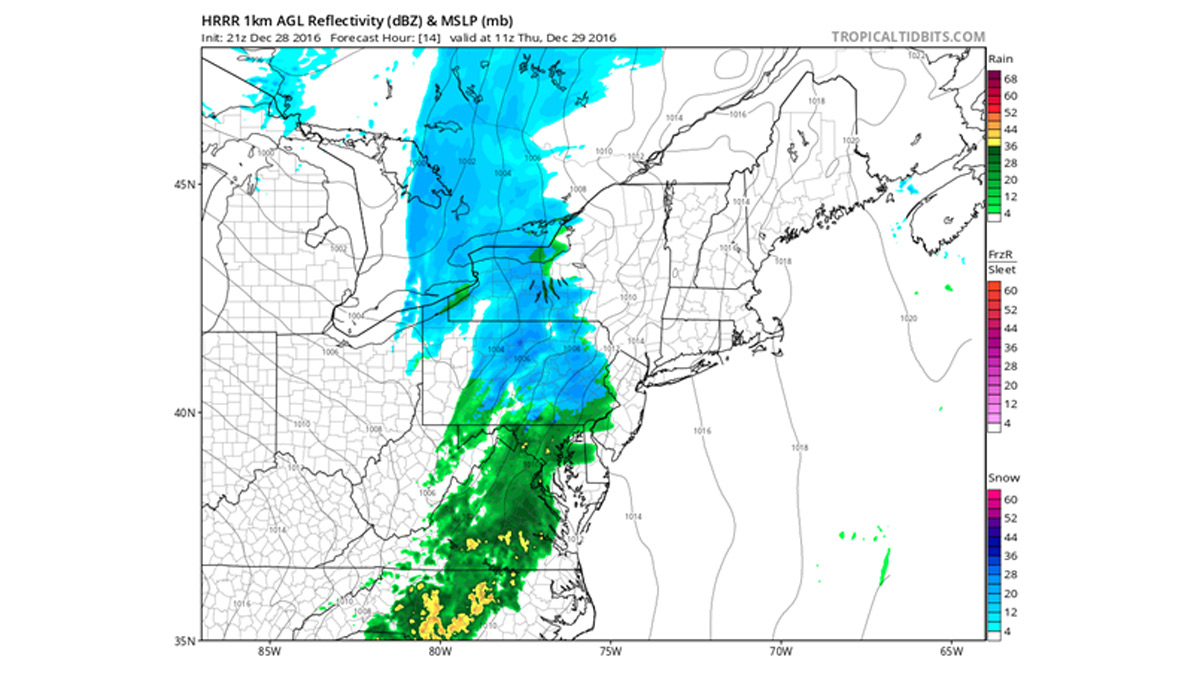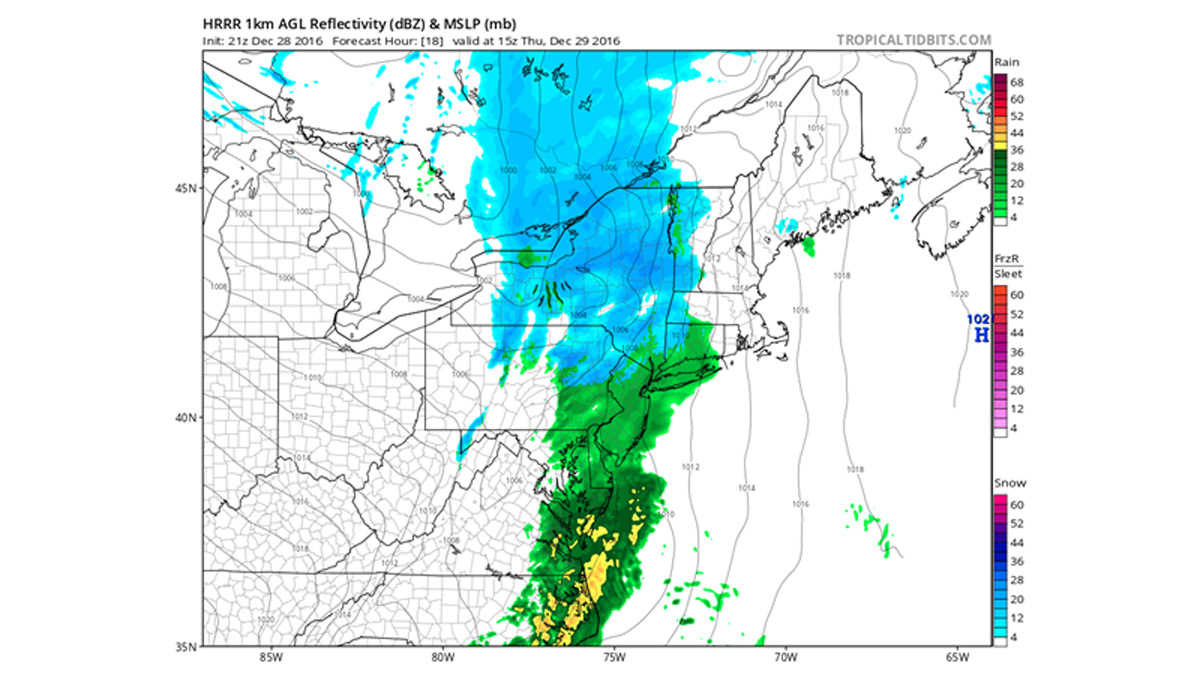 The precipitation will be long gone by the time the afternoon rush starts, and any snow would clearly have melted by then.

NEW YEAR'S WEEKEND WEATHER
After a gusty, cold Friday, the New Year's weekend will feature a slow warming trend, dry weather, and not much wind. That's good news for the fireworks, Mummer's, and the Eagles. And it'll be cold enough for them to make snow in the Poconos and improve ski conditions.

Specifically, here are some weekend forecasts:
New Year's Eve fireworks:
6 p.m. 42 dry
Midnight 34 dry

Mummer's Parade-Sunday
7 a.m. 36 dry
1 p.m. 46 dry

Eagles-Sunday
1 p.m. 42 dry
4 p.m. 47 dry

THE JANUARY PATTERN CHANGE
After a mild November, December 2016 has featured a couple of arctic blasts. Officially, in Philadelphia, we had two mornings with lows in the teens (wind chills don't count in official records). Overall, temperatures will be slightly above normal, but about 12 degrees colder than last December. Total snowfall for the month has been a mere 0.3". But that pattern is about to change as we head into January.

Here is the upper-air pattern for January 5th from "the best of the best," the European model ensembles. The model is run 51 times with slightly different initial conditions, and the results are averaged. If we see strong features 10 days ahead with an ensemble run, it's pretty impressive. And it makes us pretty sure that this basic pattern will indeed develop. Other models show very similar solutions, so there is even more confidence.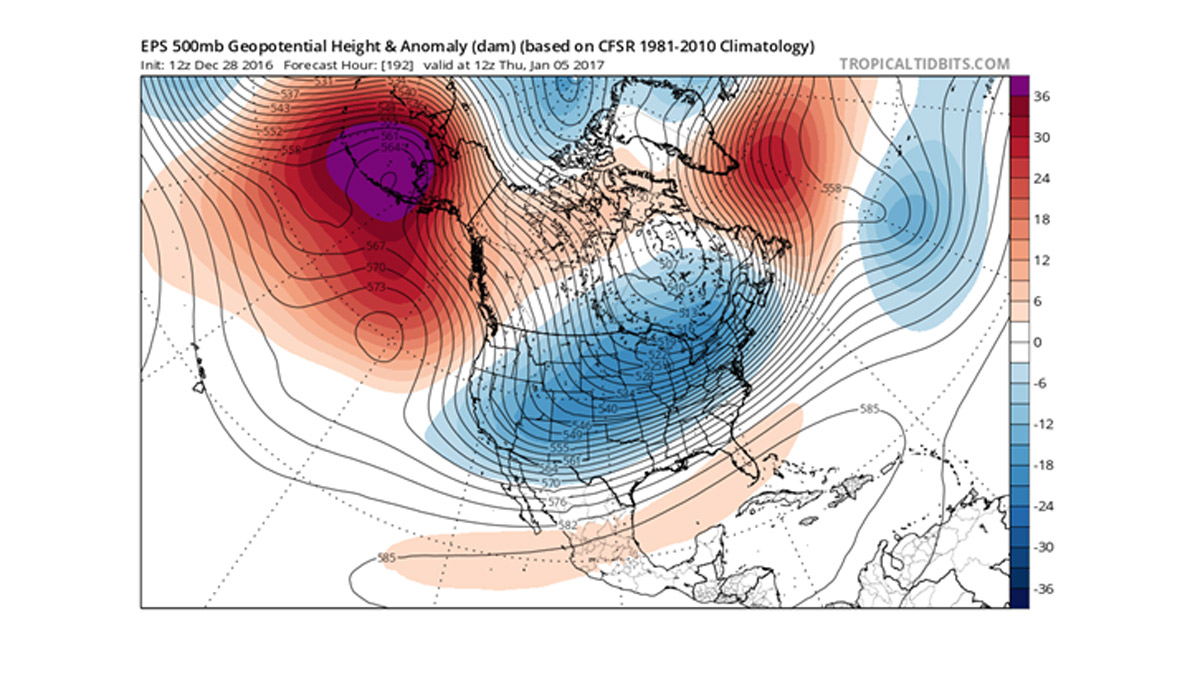 The area in purple near Alaska (upper left) represents way above normal pressures (called a "strong ridge"). Another strong ridge is in the North Atlantic, near Greenland (but not as strong as the Alaska ridge). In between pressures tend to be below normal (the blue colors). So, a "deep trough" extends from Central Canada into much of the U.S.

Here is the general temperature pattern around 5000 feet, which gives us a good idea about averages. We are in the colder than normal area, on the edge of the very cold air. In short, cold enough for snow.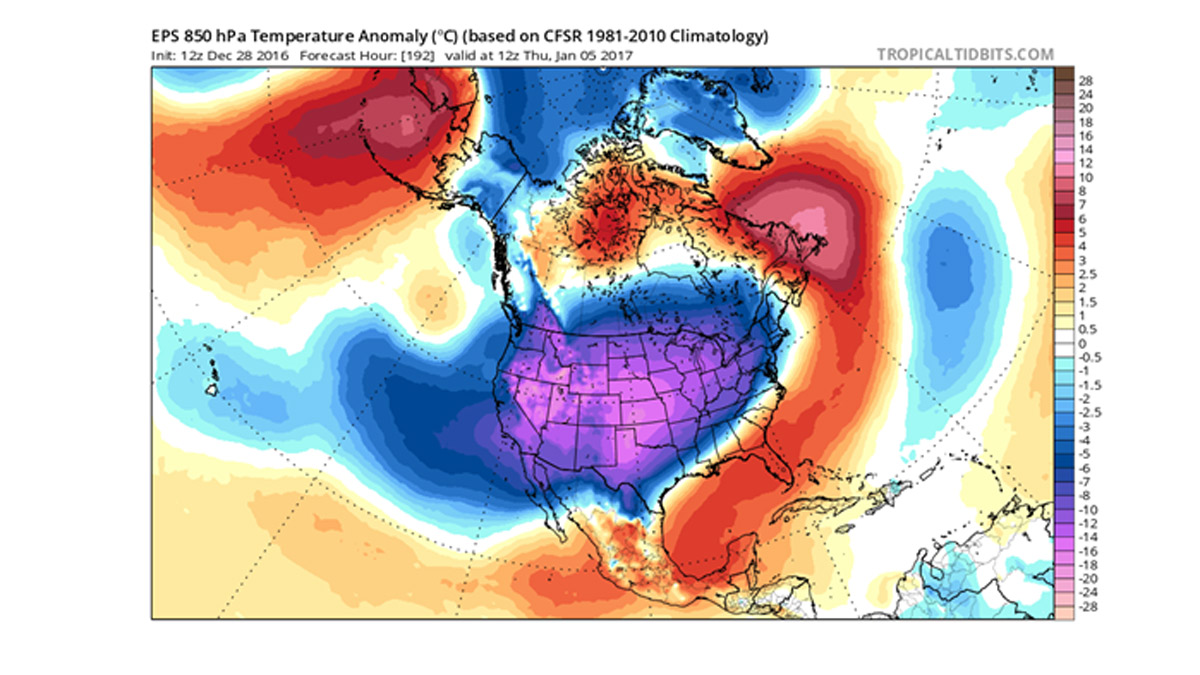 What about snow chances? Here is another model with a similar solution to the European-the American GFS model (yes, this time the models agree). Here is the GFS ensemble 7-day precipitation.