If you've been meaning to visit downtown Philadelphia's iconic LOVE sculpture for some photos, your days to do that may be dwindling -- at least for awhile.
And skateboarders, longtime stalwarts of the park although it's not technically legal to skate there, will soon become a thing of the past.
Tourists and other selfie-snappers will get their park back eventually, but as the park's multi-million-dollar renovation nears and its days as a concrete oasis become numbered, skateboarders are cramming in their last-chance laps. New green space included in the park's renovation will eliminate much of the stone and steps that make LOVE a perfect place for skateboarding.
The skaters who frequent LOVE Park are expressing their discontent with the park's impending revamp on social media using hashtags including "#lastdaysoflove" and "#phillyhasnolove."
A group of skateboarders, all young men, many who said they'd been skating at the park near-daily for years, looked on wistfully Thursday as construction workers began to put up fencing around parts of the park.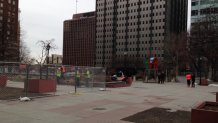 The major renovation is set to commence sometime this spring, with a ceremonial groundbreaking scheduled for Wednesday at 11 a.m. A spokesman for the city's Department of Parks and Recreation said Thursday that he didn't yet have an exact date for when the whole park would be shut down.
Local
Breaking news and the stories that matter to your neighborhood.
The entire renovation, which will add green space including grass and a variety of flowers, and include additional crisscrossing fountains, among other things, is expected to take at least a year and some change and cost $16.5 million.
The LOVE sculpture will be removed for a period but later reinstalled close to the same spot it's in now, according to PlanPhilly.
The skateboarders, who flock to the park by the dozen some days, say they feel like they're being pushed out by the renovation.
For some skaters from rougher sections of the city, LOVE Park has been a haven that kept them off the corner and out of trouble.
"I didn't have any friends till I came to this place," a 23-year-old skateboarder from Germantown who goes by Q. Three said on Thursday as he looked around at the shiny silver fences breaking up the park. "I could've been in all kinds of street stuff."
For Mark Jackson, 24, from Hunting Park, skating at LOVE has always been an outlet for him, too.
"It's everything," Jackson said as he stood with Q, holding his skateboard.
They'd get chased out of the park by park rangers and police sometimes, they said, but in a city rife with drugs and guns, skateboarding -- even where it isn't legal -- was always a better alternative.
"Nobody comes to the park unless we're skating," Q. added. "This is our place. We shovel [snow], we fix the cracks."
Mark Pepe, 21, and Collin Underwood, 22, two Temple University students who skate at LOVE every chance they get, lamented the loss of a place that, to them, feels like home.
"Skaters take better care of the park," Underwood said.
Pepe added, "During the snowstorm, I was out here with other people shoveling off the steps."
Both young men said they've known skaters to repair cracks in the pavement and clean up graffiti in the park.
"It just shows the skaters put more love and care into this park than the city did," Underwood said.
Pepe said his dad started bringing him to the park to skateboard when he was in 4th grade.
"It keeps a lot of kids out of trouble," he said.
The skateboarders said that Paine's Park, a skatepark opened on 24th Street near the Art Museum in 2013, is nice to have, but it isn't the same as LOVE Park, which they said is where some pro skateboarders, like Bordentown's Ishod Wair, have cut their teeth.
"Even if you build a skatepark, you can't make a skatepark as good as this place," Underwood said.