An investigation is underway after video of police in Lancaster, Pennsylvania tasing a man went viral.
Police say they were called to S. Prince Street around 10:15 a.m. Thursday in Lancaster after a person reported that a man armed with a bat was chasing after three other people near the intersection of S. Prince and W. Mifflin streets.
An officer who arrived at the scene says she saw three people telling a man, identified as Sean Williams, 27, to get away from them. The officer says she repeatedly told Williams to sit down but he didn't listen. Williams kept telling a woman that he wanted her to give him his Social Security card, according to the officer.
A second officer then arrived at the scene. It was at this point that a witness, Juan Almestica, began recording the encounter.
The video, which was posted on Facebook, shows one of the officers instructing Williams to sit on a curb. Williams sits down and the officer then repeatedly tells him to put his legs "straight out." As Williams' knees remain bent, the officer tells him "legs straight out or you're getting tased."
A second officer also tells him "put your legs straight out and cross them now."
"This is done as a measure of control to insure that if someone is going to flee or offer physical resistance, they will have to move their legs under them to do so," a Lancaster Police spokesperson wrote. "Non-compliance is often a precursor to someone that is preparing to flee or fight with Officers."
Local
Breaking news and the stories that matter to your neighborhood.
Williams puts his legs out and then moves them back toward the curb. The officer then shoots him with a taser causing him to writhe on the ground in pain.
"You're really gonna tase him? He was sitting down," Almestica says.
The officers then order Williams to lie on his stomach and put his arms out. A total of four officers then gather around him, place him in handcuffs and take him into custody.
Almestica later told WGAL Williams may have been confused by the officers' commands.
"He first put them straight and then she said cross your legs, so he tried to cross his legs, tased him in the back," Almestica said.
Police say a group of people claimed Williams had been acting erratically in the days prior to his arrest. The group said Williams had wanted to fight with them and was also trying to keep a woman from entering her apartment, according to police. However, contrary to the 911 call, the group also said they did not see Williams holding a bat and a bat was never found at the scene.
Williams had an outstanding criminal warrant for his arrest prior to Thursday's incident, according to police. He was originally charged with possession of a controlled substance (PCP) and public drunkenness.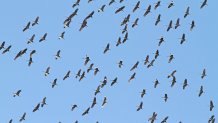 Williams was taken into custody on the outstanding warrant, transported to the station and checked by EMS, according to police. He was then cleared, arraigned and released on unsecured $5,000 bail.
Williams told WGAL he followed all the directions he was given and didn't know why he was tased.
The video of police tasing and arresting Williams went viral and sparked anger from some who believed the use of a taser was not necessary. The video also prompted a response from Lancaster Mayor Danene Sorace. Sorace posted a video on Facebook stating that an investigation was underway regarding the use of force in the incident.
"Like you when I saw the video I was upset by it and it is a great concern to me," she said. "We take the use of force very seriously."
Sorace said she was in contact with civil rights groups and that the investigation into the incident would continue over "the coming days." Sorace also said the incident affirmed her resolve to implement a body camera program for Lancaster.
"We are currently awaiting word related to some federal grant funds from the Department of Justice related to funding and look forward to continuing to keep the public abreast of those developments as well as the outcome of this investigation," she said.
Lancaster Police have not revealed whether or not the officers involved in the incident were placed on administrative leave.