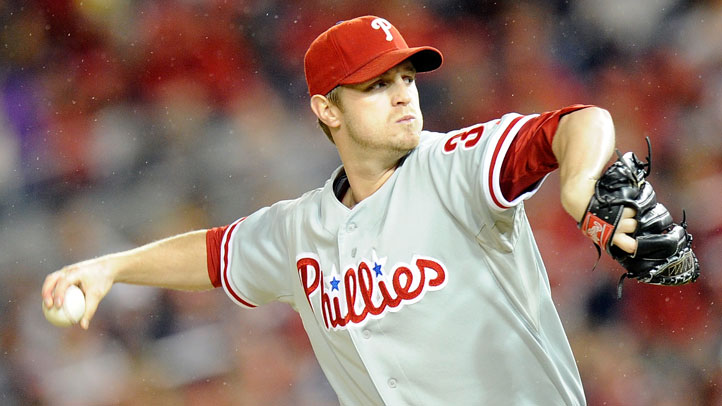 When Kyle Kendrick was given a two-year contract worth over $7 million after the 2011 season, many wondered if General Manager Ruben Amaro was spinning his wheels on a pitcher whose contributions were easily found elsewhere. After all, why pay that kind of money for a pitcher of his ilk when it can be had on the open market at a lower cost?

The start of the 2012 season didn't convince anyone that the two-year-deal was a wise investment, as the right-handed pitcher's performance didn't do much to convince anyone that he was a useful starter or bullpen piece.

But it was Kendrick's strong finish to the 2012 season that gave many hope for the his future. In the final two months, he proved to be among the team's most consistent pitchers, as he finished the year with a 3.20 ERA in 70.1 innings over his final 12 starts. It was quite the turnaround for the right-hander, whose ERA exceeded four as he see-sawed between the rotation and the bullpen through the end of July.

And as the 2012 season was a tale of two pitchers for Kendrick, so too was 2013. Through the end of June, Kendrick owned a 3.59 ERA in 112.2 innings in 17 starts. He held opposing hitters to a .678 OPS, and allowed ten homers. He proved himself to be a solid starter, and offered the Phillies a fighting chance every time he took the hill. He pitched six or more innings in 14 of his starts, and allowed three or fewer runs 12 times. All in all, it was a good start.

From July onward, however, it was a different story. In his final 13 starts, he had a 6.49 ERA in 69.1 innings. He allowed eight homers in forty fewer innings, and opposing hitters were OPSing to the tune of .859. He had a slightly better strikeout rate, but his control suffered. He pitched six innings only seven times, and allowed three or fewer runs five times. He was the polar opposite of the pitcher who a few months earlier could be counted on for solid innings when he took the mound.

In the end, Kendrick's 4.70 ERA in 182 innings would be the second worst of his career. While his FIP (a statistic which attempts to normalize performance by focusing only on the things that a pitcher can control) of 4.01 proved to be his best since 2009. Still, he was clearly not the same pitcher during the second half of the season.

While bad luck did conspire against Kendrick in the second half of the season, it appears that a late-season shoulder injury may have been the culprit for his second-half struggles. While there is no definitive time-table for when his right shoulder began to act up, it appeared to have started – at the very latest – sometime in mid-August, which was in the teeth of his slide.

Regardless, Kendrick's late-season struggles do not appear to be a deterrent for Ruben Amaro, who has been very open about the fact that he is planning to offer the 29-year-old pitcher a contract in the off-season. In light of that, it appears that a return to the Phillies is a distinct possibility. He will be eligible for arbitration, and could earn as much as $8 million for one-year. With pitching at a premium, and without a great amount of depth in the minor league system, that isn't necessarily an awful investment for the Phillies, especially if Kendrick's shoulder proves to be healthy. If he does return, the only question is which version the Phillies will be sending to the mound every five days.