Major Warm-Up Thaws Philadelphia Region
After experiencing several days straight of below freezing temperatures, and even below zero temperatures, a big thaw is heading for the tri-state area. Pennsylvania, New Jersey and Delaware will see temperatures climb through the 40s, 50s, and even 60s later this week.
Temperatures Rise Past Freezing
In Philadelphia, temperatures have been at or below freezing since last Thursday. In fact, over the weekend, temperatures never even made it into the 30s. Some spots across the region even saw temperatures fall below zero, particularly in South Jersey.
Those cold conditions are on the way out.
Instead, warmer air will filter into the region. Temperatures already had climbed about 32 degrees in South Jersey and the Shore by Tuesday around noon. By late day, most of the area will be above freezing and temperatures will still be climbing. It's pretty easy to see the cold air in place across the region looking at the blues on the map below.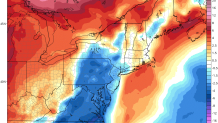 But check out the temperature anomaly map (below) by Thursday! The reds and oranges indicate the higher than average temperatures for mid-January.
Over the next several days, while periods of rain will pass Tuesday and Wednesday nights, temperatures will continue to climb. By Wednesday, the forecast high for Philadelphia is 52 degrees, and by Thursday it's 65. The average is 40!
Local
Breaking news and the stories that matter to your neighborhood.
History in the Making?
Not exactly. Temperatures are going to be considerably warmer than average for mid-January. However, they won't be record breaking for most. The record in Philadelphia for Thursday, Jan. 12, is 72 degrees. That was set all the way back in 1890! It's not terribly shocking to see 60s in the forecast, either. Last Jan. 10, the high capped at 65 degrees. By Jan. 12, the high had fallen into the mid-40s.
The NBC10 First Alert team is expecting Wilmington to be one of few zones potentially breaking a record for warmth. The current record was set in 1913, and sits at 63. Wilmington is also forecast to hit the mid-60s.
Areas like Allentown and Atlantic City will see a large warm up, too, although not record breaking. Allentown is forecast to hit the mid-50s and Atlantic City the upper-50s.
Warmth Doesn't Last Long
By the weekend, temperatures are expected to take a sharp drop. Colder air shifts back over the Mid-Atlantic states, and the forecast high for Saturday will only climb to the upper-30s, which continues into Sunday. Some areas – mostly north and west of Philadelphia – may even be able to pick up a small amount of snow by Saturday night. More on that in the days to come!