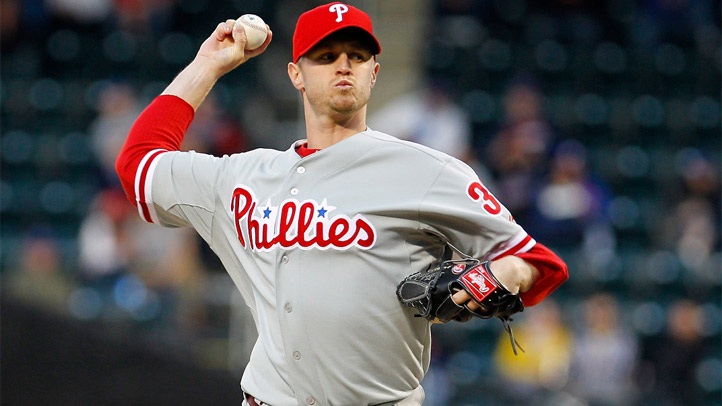 It was a pretty easy win for the Phillies on Friday night, thanks to an offense that put four runs on the board against the New York Mets, in what was the first of three games to be played this weekend at Citi Field. And while it was nice to see Ryan Howard drive in three of those runs with a monster home run, the real star of the game was the guy on the mound: Kyle Kendrick.

The 28-year-old right-hander tossed the second complete game shutout of his career against the N.L. East rivals, in a 107 pitch performance where he allowed eight hits and two walks. He struck out six. Following that shutout, Kendrick is the owner of a 2-1 record and a 2.41 ERA, which is the lowest among all Phillies starters.

Perhaps even more impressive is that his start to the 2013 season came on the heels of a terrific end to the 2012 season, where he was the owner of a 2.43 ERA and a 7-3 record in ten games to close out the season, causing many to believe whether or not Kendrick was getting lucky, or if he turned a corner in his career and transformed himself into a legitimate top-of-the-rotation starter.

And with that, we must accept the obvious truth: that Kyle Kendrick is a good pitcher.

It's a strange thing to say, considering that Kendrick has been a veritable punching bag for fans and opposing hitters since his sophomore season in 2008. After his solid rookie season in 2007 (3.87 ERA in 121 innings) and after making the job from AA to help patch up the rotation, Kendrick has been little more than organizational filler; a durable arm that can start or relieve, depending on the needs of the team on any given day.

But here we are, the day after his masterful performance against the New York Mets (note: it *is the Mets, but still. A complete game shutout is nothing to sneeze at), and having to embrace the right arm of the guy who was once fooled into thinking he was traded to Japan.

The good news is that, for all intents and purposes, it appears that this version of Kyle Kendrick is the real deal. It's easy to be skeptical of his performance last season given the relatively small sample size of ten games, but it doesn't look like he's going to revert back to his 2010 ways. At least, I hope not.

The reason for Kendrick's continued run of success on the mound appears to be his reliance on both his sinking fastball and his changeup, which have resulted in a greater amount of ground balls off the bats of opposing hitters. By limiting the number of batted balls that are in the air, the greater the chance that they won't fall in for hits or land over the fence.

To boot, Kendrick is striking hitters out at a greater clip than he has for most of his career. Prior to last season, Kendrick would hang out in the 4.1 K/9 area, but his new approach has seen that increase to 6.5 K/9 in 2012 and 2013. Cliff Lee he's not, but strikeouts – and not double plays – are a pitcher's best friend.

And while we certainly can't expect Kendrick to throw a shutout every time he takes the hill, it's comforting knowing that the pitcher we are watching now is unlike the one who got knocked around as recently as the beginning of 2012. The starting rotation was a big question mark when the season started, but thanks to Kyle Kendrick, it got a bit easier to answer.