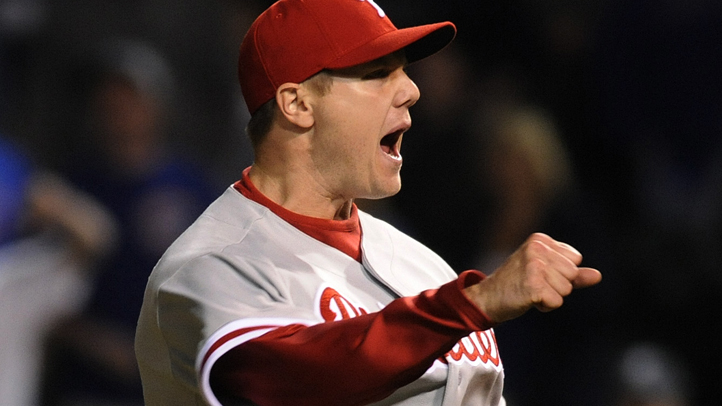 When the Phillies signed Jonathan Papelbon before the 2012 season, he was pretty clearly one of the best relievers in the game. From 2007-2011, he led all relievers (even Mariano Rivera) in WAR, struck out just over 11 batters per nine, and saved a whole mess of games (184). He was pretty good, so you can understand why (even if it was a dumb thing to do) Ruben Amaro decided to pay him over $10 million per season to pitch in relief.

In his first year with the Phillies, Papelbon lived up to expectations. He had a 2.44 ERA, saved 38 games, and struck out 11.8 batters per nine. His 70 innings pitched was a career high, and he was one of the few sure-things for the Phillies in 2012.

A quick look at Papelbon's 2013 stat line tells a very similar story, at least on the surface. For all intents and purposes, it looked like he had a pretty good year, and one that most fans would be pretty happy with out of their favorite team's closing pitcher. In 54 games, Papelbon tossed 61.2 innings, had an ERA of 2.92, with 29 saves, and 8.3 strikeouts per nine innings, to go along with 1.6 walks per nine innings. Not too shabby, at all.

But as we've come to find out in the wake of the statistical revolution, the numbers that we traditionally associate with success can only tell you so much. A bit more digging is needed to unearth the actual story. And for Papelbon, the story is that he had one of the worst years of his career. What's more concerning, however, is the trend that appears to be emerging.

When you look at numbers, everything seems to be pretty good. He saved a bunch of games, had a good ERA, and struck out a solid amount of hitters while not walking many. Without context, those numbers are good. But when you go deeper, you realize that Papelbon was worse than you'd think. Observe.

His 8.3 K/9 was the worst of his career, and is over two strikeouts lower than his career average (10.8) coming into the season. His previous career low was 9.0 in 2005, which was his first year in the league. It's also the second straight season that his K/9 has declined, which would be a whole lot less alarming if it wasn't also the second straight season that he saw a decline in velocity. For the bulk of his career, Papelbon had a four-seam fastball that averaged around 94-95 MPH. It was at its fastest in 2011, when he averaged 94.8 MPH on the gun. It dipped in 2012, to 93.8, and again in 2013, to 92. While 92 is still plenty fast, a drop in velocity makes his secondary pitches less effective, and it means less swings-and-misses on his primary pitch. Papelbon induced fewer swings in misses in 2013 than any other season in his career.

That dip in velocity led to fewer strikeouts, and at times, perhaps more flukey hits (Papelbon was no more or less unlucky in 2013 than what you'd expect from a pitcher, however) that resulted in seven blown saves for the closing pitcher. When Amaro brought him on board after the 2011 season, he was one of the premier relievers in the game, but he certainly did not exhibit that trait this season. His ERA wasn't among the 30 best in the majors. Neither was his FIP (43rd best, at 3.05), or his xFIP (45th best, at 3.51). Among his fellow relievers, it can be argued that Papelbon was less effective than Jake Diekman and Antonio Bastardo.

Now, that's not to say that Papelbon had a bad year. Not at all. Like I said, 2013 on its own merits was a fine campaign, despite seven blown saves. But in the grand scheme of things, it was clearly a step in the wrong direction for the 32-year-old reliever.

The good news about this is that, at the very least, Papelbon is still an effective reliever. He clearly wasn't the reliever whom Amaro saw fit to give $50 million, but as long as he can continue to strike a decent number of batters out, he will have value at the back end of the bullpen.