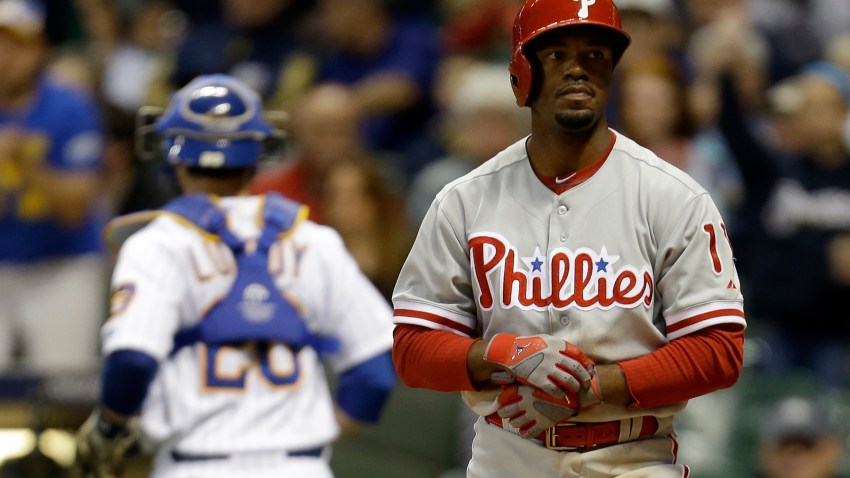 For the longest time, Jimmy Rollins has been one of my absolute favorite players to watch. Despite some of his bad habits at the plate, he's been a decent enough hitter for a shortstop, and when he was healthy and in his prime, there were few players more exciting than the 2007 National League MVP. Whether it was on the field or in the box, J'Roll was always worth the price of admission. But he was not without his fair share of problems in 2013.

The shortstop, who is the longest tenured Phillie on the roster, had the worst season of his career in 2013, when he had a .252/.318/.348 line to go along with six homers and 22 stolen bases. His six bombs are the fewest he's hit in his career, second to 2003 and 2010, when he hit eight.
Similarly, his 22 stolen bases would be the second fewest of his career, if not for an injury-shortened 2010 season that saw him swipe only 17 bags. Both his OPS (.667) and OPS+ (85) are also career lows.

Despite his traditionally poor plate approach, Rollins has typically been good for above-average power for his position. With the exception of the aforementioned 2010 season, the last time Rollins didn't have a double digit homer total was in in 2003. Even if he didn't get on base as much as we'd all have liked, he was still good for some decent power for a shortstop. But that was not the case this year, and he instead went from 23 homers in 2012 to six in 2013.

All in all, it was a pretty miserable season at the dish for Jimmy. Thanks to Ben Revere's presence, he was moved down in the order at times, and spent all of 63 games hitting out of the leadoff spot. That's not necessarily a bad thing based on the results, as his performance leading off his year was considerably worse than when he hit second or third in the order.

Defensively, it wasn't Rollins' finest season. While the jury is still out on the efficacy of defensive metrics, Fangraphs rates Rollins as the 16th best fielding shortstop in the big leagues. His 11 errors were near the bottom of the list, but that only tells a small part of the story. And this season, that story appears to be that Jimmy has lost a step or two on defense. That makes sense, as Rollins is 34, and is one of the elder statesmen of Major League shortstops.

The silver lining to all of this is that it would be tough for Rollins to perform much worse than he did this season. Maybe that's more wishful thinking than anything else, because if he were to play worse than he did in 2013, that would essentially make him an $11 million version of Wilson Valdez.

Rollins does have one more year left on the contract extension that he signed prior to the 2012 season, plus a vesting option that will kick in if he exceeds more than 600 plate appearances in 2014. Considering that he averaged 665 plate appearances per season since 2011, it's a safe bet that he'll hit that number again next season. And depending on how motivated the Phillies are to have him back in 2015, it will be interesting to see if his playing time is impacted next season.