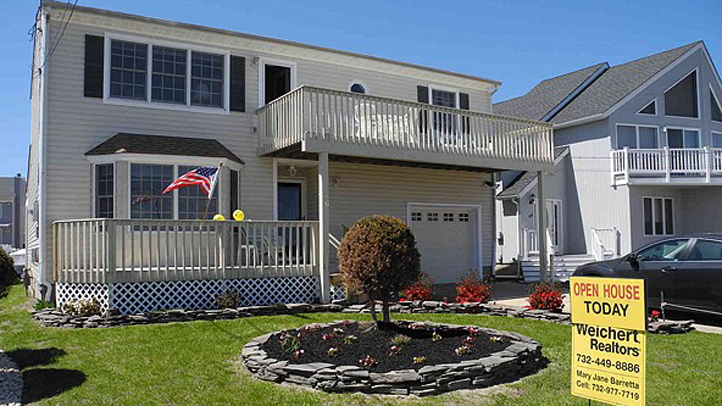 Helen Hoare is ready to move out of the home she shared with her late husband for 20 years. It's in Brick, on the Jersey Shore, with the bay just across the street out front and a lagoon with a dock the back.
"This is the happiest part of my life here," she said.
Hoare's damage during Superstorm Sandy last fall was minimal — mostly limited to a bit of water in the garage and the crawl space under her house — but it's still having an impact on her sale.
Local
Breaking news and the stories that matter to your neighborhood.
Prior to the storm, the home might have listed for upwards of $700,000, says Hoare's real estate agent, Mary Jane Barretta with Weichert Realtors.
They're currently asking $599,000.
Additionally, Hoare has had an elevation certificate prepared, which is needed to get flood insurance. She also is offering to pay $25,000 towards the cost of elevating the home, if local building codes require it within a year of closing.
Barretta says the first thing any potential buyer on the shore does is inquire how much damage a property sustained during Sandy — even for homes that aren't on the water.
"People hear what happened, they might read what happened, but they haven't been here," said James R. Johnson, Jr., a broker who manages Weichert's Sea Girt office. "Sometimes what they hear sets them back a bit."
But Johnson says when out-of-town buyers do visit the area, they realize there's a range of homes available, from those unfazed by the storm to knock-downs where buyers can build whatever they want – provided it's elevated.
"We're trying to figure what things are worth again," explained Matt Schlosser, a realtor and the vice president of Schlosser Real Estate, a Lavallette-based agency his family's for over 70 years.
The storm's impact has varied by community, Schlosser says, but overall, the prices have fallen while the number of sales has risen.
Thanks to protective dunes, waterfront homes in Lavallette were spared the more dramatic damage of neighboring Ortley Beach, where prices have dropped significantly.
"We've seen anywhere from 30 to 40 percent drop from homes that had sold prior to the storm and some closing numbers that we're starting to see," said Schlosser.
But just across the border in Lavallette, he says prices have dipped as little as 5 percent for ocean-side properties that did not have as much damage and 15 to 20 percent for storm-damaged homes that were on the Bay side.
It's clear that some buyers see good investment opportunities in the storm. There's a sense that there deals to be had, but that the deals won't necessarily last. Schlosser says over half the 44 homes for sale in Lavallette are on under contract.
"The new buyers who are coming in and who want these $1.5 million houses are much different from the sellers," he said. "A lot of the sellers who are selling these knock-down homes are people that have been in the families for 40 years, they paid $30,000 for it back in '70s."
Many are one-story beach bungalows that sit on a concrete slab on the sand. Most of their value is in the land underneath. Despite the fact that they have a second home, many of these owners aren't particularly wealthy.
"The buyers are the wealthy ones," said Schlosser. "So we are seeing a change in who lives in these towns."
The landscape will change as well. When these new owners rebuild, they'll be significantly larger, higher homes. It's a demographic shift that's been happening on the Shore for years, but which will likely escalate due to Sandy.
---
This story was reported through a news coverage partnership between NBC10.com and NewsWorks.org