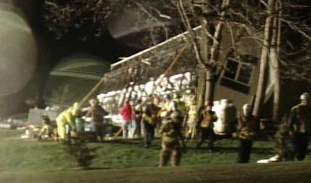 Was a violent storm in Lancaster County actually a tornado? Yes, the National Weather Service confirmed that a tornado touched down Sunday.
A possible twister was reported in Clay Township, which is about 10 miles north of the city of Lancaster.
Investigators were on the scene Monday to decide if the storm was in fact a tornado. The tornado packing winds between 85 to 95 mph touched down over Littiz/Ephrata around 4:40 p.m. Sunday, investigators declared.
Local
Breaking news and the stories that matter to your neighborhood.
The tornado path was 1.25 miles in length.
More than a half-dozen trailer homes were destroyed in Clay Township. Houses and barns were also damaged by tornado-strength winds, witnesses said.
In total 238 structures were damaged by the storm, said the Weather Service.
The EF1 storm was fairly weak on the National Weather Service's Enhanced Fujita scale. The scale goes up to EF5 storms that have winds above 200 mph.

Three people suffered minor injuries.

The storm started with intense hail, followed by ferocious winds, residents said.
Closer to Philadelphia high winds did a number on trees and some rooftops.

One man said the swirling winds literally knocked him down. He was not hurt.

Other areas got golf ball-sized hail and flooding rains.