INAUGURATION: WET, BUT NOT COLD
It won't be the warmest inauguration day in history, but it will be one of the warmest. Compare the predicted 49 degrees to the SEVEN degrees for President Reagan's 2nd inauguration, with reported wind chills down to 20 degrees below zero! Curiously enough, President Reagan's first inauguration was the warmest in history, at 55 degrees.
There have been quite a few inauguration days when it rained or snowed-in some cases, a lot. President Kennedy took the oath with 8 inches of fresh snow on the ground, which had fallen overnight and into the morning. William H. Taft suffered through a 10 inch snowstorm and strong winds. Grover Cleveland in 1893 took the oath under a frigid wind and snow.
And as for rain, one time it was even so bad it might have led to the death of the new President. In 1841, William Henry Harrison did more than make the mistake of taking the oath in the pouring rain WITHOUT A COAT OR HAT. He also spoke for nearly two hours, ending up with pneumonia and then died about a month later.
SO HOW DOES FRIDAY LOOK?
Wet. Here's the predicted map for 1 p.m. Friday from the Canadian model: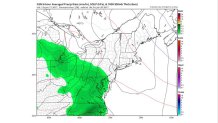 The European model is a little slower, with rain holding off until after 2pm. A compromise forecast brings the rain in shortly before noon and becoming steady in the afternoon. But it also looks to be on the light side. Not much wind is expected, so it won't be too uncomfortable. But if you're headed there, take the rain gear. If you don't need it in the morning, it's pretty clear you'll need it before the end of the day.
MAJOR CHANGES FOR FEBRUARY?
It's clear that much of the second half of January is going to feature very mild weather compared to normal over much of the country, and even much of Canada. Here is the current map of temperatures around 5000 feet. Central and Southern Canada are nearly off the charts with above normal temps. And the entire eastern half of the U.S. is WAAAAY above normal. On the other hand, incredible cold is over Alaska.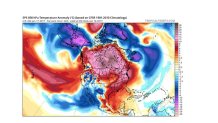 That is clearly an extreme pattern, but it's going to change. Look at the same type of map about ten days from now. The tremendous warmth continues in Southern and Central Canada. But a big piece of the Alaska bitter cold has dropped down into the western half of the U.S. and is still spreading eastward: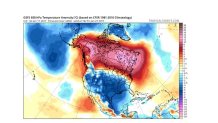 Only a few days later, the cold is now covering nearly the ENTIRE U.S.!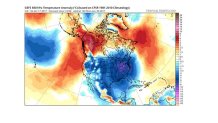 So, by the start of February, the colder pattern will have settled in. Will any storms track that lead to snow? More on that later in the week.