Tom Meo crumbled the moment Cosmo DiNardo's bullet struck his back.
Paralyzed and laying on the gravel driveway of DiNardo's secluded farm, Meo screamed.
"I can't feel my legs! I can't feel my legs!"
Meo's friend, Mark Sturgis, ran when the shooting started. He made it only 20 feet before DiNardo sprayed him with bullets from a silver revolver. Then, flustered by Meo's screaming, DiNardo jumped onto his father's backhoe. As he turned the earthmover toward Meo, the screams stopped.
Seconds later, the backhoe rolled over Meo. He died instantly.
On that grisly day in Bucks County, Pennsylvania, only Meo had plans to meet DiNardo. Sturgis was not expected to be there.
The murders — two of four DiNardo would commit in July 2017 with the help of his cousin, Sean Kratz — captivated the nation. A week-long search for the victims led local and federal investigators to a sprawling 90-acre farm near New Hope. It belonged to DiNardo's family, who made their fortune from various trucking and concrete businesses.
DiNardo and Kratz both confessed to police. DiNardo pleaded guilty Wednesday, but Kratz pleaded not guilty to three counts of criminal homicide.
All four victims — Dean Finocchiaro, 19, of Middletown Township; Sturgis, 22, of Pennsburg, Montgomery County; Meo, 21, of Plumstead Township; and Jimi Taro Patrick, 19, of Newtown Township — thought they were meeting DiNardo to buy pot.
Each drug deal turned into an ambush.
In confession tapes obtained exclusively by NBC10, DiNardo and Kratz, both 21 years old, detail the gruesome murders and the cousins' attempts to cover their tracks. The motivation behind these murders seemed arbitrary, at best, throughout the nearly four hours of recorded audio.
DiNardo, who has a history of schizophrenia, was calm and unsentimental as he described shooting the men, dousing three of their bodies with gasoline and burning them in a pig roaster. By contrast, Kratz's voice cracked in the recordings when he recalled closing his eyes and shooting Finocchiaro moments before his cousin shot the dying man, again, for good measure.
Bucks County District Attorney Matt Weintraub said he will seek the death penalty and that prosecutors will use Kratz's recorded confession against him in trial.
Weintraub's office refused to release the recordings publicly saying the interviews were not part of the public record.
The murder spree started on July 5, 2017 with Jimi Taro Patrick. He and DiNardo had been classmates at Holy Ghost Preparatory High School in Bensalem. On that particular day, Patrick was in the market for marijuana. DiNardo considered himself a middle man, selling pot for a big dealer whom he identified only as Carlos.
Prior to their meeting, DiNardo told Patrick to bring $8,000 for a large amount of marijuana. He only showed up with $800, DiNardo told investigators. For that amount of money, DiNardo suggested selling him a gun instead. Patrick humored him. As Patrick goes to shoot the 12-gauge shotgun, DiNardo shot him in the back. He fell just 10 feet away from where DiNardo would later bury his body.
"I go, get the backhoe, dig the hole, said a prayer, put him in the hole," DiNardo said during his confession.
He then burned Patrick's money.
"I didn't want the kid's $800. I didn't kill him over the $800. I wasn't robbing him," he said. "This was not going to go good for me. The guy would have shot me if I went to meet up with him and I didn't have the money."
Two days later, on July 7, DiNardo got ready for another drug deal. But first, DiNardo took a moment to buy nearly $300 worth of steaks and fish for his family.
With food in hand, DiNardo drove to his cousin's home in Ambler and then to their grandmother's house to deliver the food. Together, DiNardo and Kratz went to meet Dean Finocchiaro and sell him a quarter-pound of weed.
DiNardo only had 2 ounces on him.
Their plan was simple. Instead of selling anything to Finocchiaro, the cousins would rob him. Maybe even kill him. It wouldn't be the first time DiNardo did that, he told Kratz.
"He wanted me to rob [Finocchiaro] and then to shoot him," Kratz said in his confession tape. "I wanted to go home, but [DiNardo] just made it clear that he wasn't taking me home."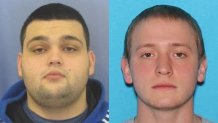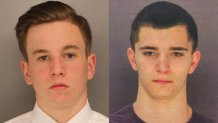 The cousins were not close friends. DiNardo told investigators the two had only just started hanging out a few months prior. In his confession, DiNardo couldn't even remember which last name Kratz used.
Both men had a history of violence, however. DiNardo claimed to investigators he strangled one man to death in North Philadelphia and shot another in West Philadelphia when he was a teen. Philadelphia police said they have no evidence he committed those crimes.
In more recent years, DiNardo was banned from Arcadia University in Glenside and escorted off his high school alma mater's campus. In both instances, officials reported that DiNardo made people feel uncomfortable. Arcadia University school officials told NBC10 they considered DiNardo a threat to public safety.
Kratz, meanwhile, was shot 19 times in March 2017. At the time of Finocchiaro's murder, Kratz was out on bail following a pair of burglaries in Northeast Philadelphia. One neighbor told NBC10 he stole lawn equipment from a house and a dog from another. In June 2016, security cameras in Montgomery County showed Kratz breaking into a shed. He retaliated against the woman who turned him in by stealing her jewelry, according to court documents.
Despite his record, Kratz didn't consider himself a murderer. When it came time to kill Finocchiaro, he hesitated.
"He wanted me to rob him in the woods and shoot him, take his money," Kratz said in his confession tape. "I just couldn't do it."
DiNardo and Kratz picked up Finocchiaro in Bensalem and drove him to the DiNardo property in Solebury Township, where Patrick's body lay freshly buried. Once there, the three jumped on four wheelers and followed dirt trails into the woods. There, Kratz was to shoot Finocchiaro, both told investigators.
When he didn't, DiNardo became agitated. He led Kratz and Finocchiaro into a barn under the pretense of checking out a Vespa. Kratz was nervous. He lit a cigarette. Finocchiaro fiddled on his phone.
"[DiNardo] gave me a signal — a hand gesture as a gun," Kratz said in the confession recording. "I kinda was hesitant. I pulled the gun out. I aimed it in the air, closed my eyes and fired a shot."
Finocchiaro collapsed to the ground. DiNardo took the gun away from Kratz and shot the dying Finocchiaro.
Kratz rushed out of the barn and vomited. DiNardo followed, laughing at his cousin who had never seen a dead body, Kratz said.
"His head was split the hell open," DiNardo said during his confession. "Half his brain was in the barn."
DiNardo covered Finocchiaro's body with a tarp after cleaning out the dead man's pockets. A wad of cash, a phone and other belongings that could help identify Finochiarro were taken. DiNardo rolled the body onto the backhoe and then lifted it into a pig roaster located just outside the barn.
Around the same time, DiNardo's father suddenly drove onto the property, Kratz said. The younger DiNardo went to meet him but the older DiNardo backed up his car and left. There was a woman sitting in the front seat who wasn't DiNardo's mother, Kratz said. DiNardo was "bent out of shape" about this other woman. He swore to kill them both, according to Kratz's recorded confession.
Shortly after, DiNardo received a phone call from Tom Meo to arrange a drug deal that same day. It was supposed to be another set up. DiNardo and Kratz would rob Meo and then let him go. Instead, he showed up with Mark Sturgis and the deal soon turned into a bloodbath.
Several feet away, Finocchiaro's body slumped inside a metal pig roaster and Taro laid several feet underground. The bodies of Meo and Sturgis would soon join Finocchiaro in the roaster, later to be covered in gasoline and lit on fire. DiNardo used a blow torch to burn the phones and Meo's car registration. He tried to give his cousin "a dead man's cigarettes" but Kratz refused, he said.
It was time for a break.
DiNardo drove to a nearby gas station and purchased about $30 worth of root beer, cream soda, water, iced tea and cigarettes for Kratz. He picked up Kratz at the barn after ensuring everything else appeared in order. The cousins jumped into DiNardo's car and drove down Interstate 95 back to DiNardo's house in Bensalem.
But first, they stopped for cheesesteaks.
"I didn't eat mine," DiNardo said. "I just did something so gruesome. I didn't have the appetite."
That night, Kratz stayed over DiNardo's home. They each showered and put on clean clothes. They slept. Meanwhile, the bodies smoldered in the pig roaster.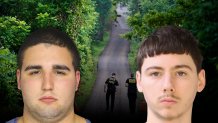 Early the next morning, on July 8, the cousins made further preparations to hide evidence. They hand washed DiNardo's truck and then drove to Kratz's mother house in Northeast Philadelphia, where DiNardo would later hide the gun used to kill his victims. They also visited with Kratz's sister and her new baby. Kratz told investigators that during this visit, DiNardo made lewd comments to the young mom.
The cousins then drove to a barber shop owned by Kratz's uncle. DiNardo wanted a haircut and a shave. There, Kratz tossed the victims' IDs into a sewer.
After the barber shop, Kratz and DiNardo drove to Franklin Mills for a professional car wash.
DiNardo received a frantic call from his mother. Kratz would later describe her in his police interview as "hysterical." She drove to meet her son and nephew, and was sobbing by the time she arrived. Word had spread that Finocchiaro was missing and DiNardo was the last person to see him.
"I told her I didn't know anything about it," DiNardo said. "She said they always try to put everything on me."
DiNardo he was shaken by the encounter, Kratz told investigators during his confession.
"He's all, now, fired up and said that he has to go to the farm again … to get rid of the bodies," Kratz said in the confession.
Kratz asked to be taken home, but DiNardo brought him to the farm and disappeared into the woods with the backhoe. DiNardo hurried to bury the remains that had burned overnight. DiNardo also grabbed two guns, which police later determined were used in the murders. Those guns were taken to the home of Kratz's mother for hiding, but Kratz eventually removed them.
When asked why he moved that evidence, Kratz told investigators:
"The same reason that I shot Dean — I was scared [DiNardo] was going to harm not only myself, but I have a one-and-a-half month-old nephew, got a little brother, a mother. He made it out like 'You say anything and I'll hurt you.' After knowing what he's capable of, I was scared for others."
Kratz never spoke to his cousin again.
After more than an hour of questioning by Bucks County detectives, DiNardo finally broke down. His breathing quickened and sobs erupted in a moment of uncharacteristic distress.
"I threw my life away for nothing. All I've done is nothing," he cried. "I ruined people's families."