What to Know
A New Jersey couple as well as a homeless man in the GoFundMe controversy are all accused of making up the story.
Mark D'Amico, Kate McClure and Johnny Bobbitt allegedly conspired with one another to make up a story in order to raise more than $400,000.
McClure's attorney, James Gerrow, says his client was duped by D'Amico and thought she was actually helping Bobbitt.
The bitter legal battle between a South Jersey couple and a Philadelphia homeless veteran intensified Monday when a lawyer representing one of the defendants released audio recordings detailing an alleged conspiracy to raise money via a fraudulent GoFundMe campaign.
Kate McClure, who claimed to have met a homeless good Samaritan after running out of gas on Interstate 95, can be heard arguing with her ex-boyfriend, Mark D'Amico, over the plot. She has maintained her innocence ever since being charged with conspiracy and theft by deception, and claimed that D'Amico masterminded the scheme.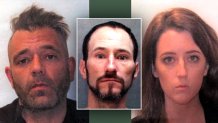 The exchanges between the former couple grew increasingly heated throughout the 11-minute recording. At one point, McClure cried as D'Amico screamed that she was a "weak slob" and letting a "junky" get between them.
"I had no part in any of this and I'm the one taking the fault," she said in the recording. "I might be going to jail because of something you said."
"Stop it," D'Amico said.
"Stop what?" McClure asked.
"You won't go to jail for lying about something you said on TV," D'Amico answered.
D'Amico went on to detail some of the money they spent together after raising $400,000 from thousands of people on GoFundMe. Their lavish purchases included a BMW car, Las Vegas trip, expensive purses and Disney tickets, according to the audio.
"You're so dumb and weak, it's pathetic," D'Amico shouted.
The couple reportedly broke up in September, according to McClure's lawyer.
Earlier in the day, McClure's lawyer, James Gerrow told "Good Morning America" that D'Amico was "calling the shots" in the alleged scheme that resulted in criminal charges against McClure, D'Amico and homeless Marine Johnny Bobbitt.
The criminal complaint alleges the three concocted a feel-good story about the couple reaching out to help Bobbitt after Bobbitt gave McClure his last $20 when her car ran out of gas in Philadelphia last year.
"People have to understand that this was an abusive relationship. Mr. D'Amico was the one behind this and he was the one calling all the shots," Gerrow said. "She didn't understand or appreciate that this may very well be a crime."
It was unclear which attorney currently represents D'Amico. An attorney who was representing the couple last week declined to comment Monday on Gerrow's allegations.
NBC10 first reported that McClure and D'Amico would be charged with conspiracy and theft by deception. Bobbitt also is charged.
Prosecutors began investigating months ago after Bobbitt claimed he wasn't getting the money that had been raised on his behalf. He later sued the couple.