"My wedding," sighs Angela Petrone McNally. "That day it was really hard to hold back."
The void on the 24-year-old woman's wedding day was evident. No dad for the father-daughter dance. No dad to give a speech reminding her new husband to take care of his little girl. No dad to give her away with a walk down the aisle. Angela's father, Richard Petrone Jr., vanished 10 years ago.
The 35-year-old Philly man was last seen leaving a now-defunct South Street bar with Danielle Imbo, 34, around 11:45 p.m. on Feb. 19, 2005. There has been no trace of the couple, nor Petrone's 2001 Dodge Dakota truck since then. FBI investigators plan to update the public Thursday -- the 10th anniversary of their disappearance, but they confirmed they are still unsure what happened to them.
"I wish he could have been here."
There were a lot of tears, both joyful and grief-stricken, during the October ceremony.
Typically Angela's grandfather struggles to contain his emotion when his son's disappearance comes to mind. Richard Sr. was the first family member to return my call, but only to say his wife would handle any interviews between long, hard swallows that staved off his tears.
"My grandmother was a mess," Angela remembers.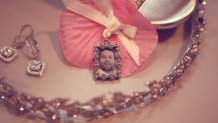 "I just wanted it to be a happy day for her," said Marge Petrone, the South Philly matriarch who says she still hears her son's voice every day. "That's what he would have wanted. A locket. We sewed it onto the bouquet with his picture. That's how she walked down the aisle."
Local
Breaking news and the stories that matter to your neighborhood.
Time has not healed the wound created by Richard's disappearance. Angela says she is better able to publicly handle the turmoil than her grandparents -- maybe because it began when she was an adolescent.
"It is harder for them to control their emotions, but at this point I've been dealing with this since I was so young that I'm immune to it," she reasoned. Her dad was 35 when he disappeared; she was 14. "I'd rather cry when I'm home by myself."
She even holds it together in front of her 5-year-old son and while working at Viking Pastries, the family's Ardmore bakery.
"I know he would really want this to keep going. So I'm trying to follow in his footsteps," Angela said.
Richard helped out at Viking Pastries as a child and began working full-time alongside Richard Sr. after finishing high school.
"They worked together every single day," Marge said. "Every time he drives onto that lot it takes a toll on him."
"My grandfather," Angela paused, "He wants to see his face when he walks through the door."
Her half-moon shaped eyes look like those of her father, who raised his daughter from the age of 3 to 13 in the apartment above the bakery. The doting dad, who played softball with her, would be playing catch with his grandson today, Angela said. He graduated from Bishop Eustace Preparatory School, before perfecting his cake skills at the Restaurant School. The South Jersey man loved hockey and Bruce Springsteen. Quotes from "The Boss" are sprinkled throughout posts on RichardPetrone.com, a website managed by a family friend -- the same site where you'll find evidence of his father's despair.
In the immediate months following the disappearance, the elder Richard's despair pinballed between fury and solemn reflection.
"Tonight I am filled with a rage…and an anger so hot that I want to scream at the heavens WHY…WHY… Why did this happen to two such beautiful people?" an Oct. 15, 2005 post reads.
On Aug. 29, 2005 -- Richard's birthday -- his dad reflects on fishing trips and hockey games, and quotes Springsteen "Born to Run."
The elder Richard's anguish is still evident in more recent posts, like this one from Sept. 9, 2014.
"Emptiness. Sometimes I crawl in and can't get out All my life I had tomorrows A chance A new day A new beginning It will soon be ten years."
For many years, Angela, like her grandfather, did not want to talk about her father or his disappearance.
Entering Viking Pastries was too painful. For several years, she refused to return to the bakery.
"I would actually help him make the icing," she recalled. "He would let me add the sprinkles to the top of cupcakes when I was little."
Some evenings the father-daughter duo would try creating new concoctions from an odd assortment of ingredients.
"He would throw a whole bunch of ingredients in front of me and tell me to go nuts. Most of the things I made were inedible."
The memories provide some solace, but the unknowns haunt the Petrone family.
"When someone is just missing," Angela explained, "You don't know where they are, what happened, who they were with. It makes your brain go a thousand different ways in one second. You think of a million different scenarios."
"We know nothing, it is not like he died in a car accident," Marge said. "I don't have a grave… I'm not demeaning anyone who lost a child, but to me this is a thousand times worse."
With no forensic evidence and no witnesses, investigators have almost nothing to go on. "When all the pieces of the puzzle are blank, there is nothing to put together," said FBI special agent J.J. Klaver.
Authorities have considered dozens of possible scenarios, including one many in the public latched on to: murder-for-hire.
Klaver says that is just one possibility among many. "There is no way to rule out or rule in anything," he said.
Both the Petrone women, along with Danielle's family, maintain the couple was killed.
"I care about the person who did it paying the cost of what they did," Angela said.
"We just want someone to pay for killing two innocent people for no reason," Marge added.
"I raised him like a piece of crystal, now he is a piece of trash somewhere," she continued, her voice growing louder as she describes her longing for a proper resting place for her son.
"My son was a good Catholic boy. I should have buried him," Marge tearfully insisted. "To be able to say good bye somewhere."
---
Contact Alison Burdo at 610.668.5635, alison.burdo@nbcuni.com or follow @NewsBurd on Twitter.