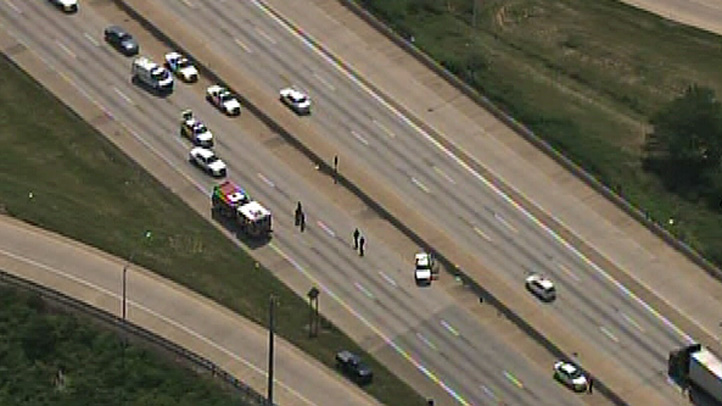 A woman died and multiple other people suffered injuries Wednesday morning in a multi-car crash along Interstate-78 in Allentown, Pa. that left the highway closed for hours.
The crash happened around 10:30 a.m. in the westbound lanes of the highway near Lehigh Street.
In a release issued by State Police, they say a car had pulled over to fix a flat tire and was in the process of pulling back out into traffic when it was hit by another car that proceeded to hit two other cars.
Local
Breaking news and the stories that matter to your neighborhood.
A passenger in that second car, Linda Rooney, 51 of Goshen, N.Y., died in the wreckage. Three others in the car including driver Raymond Rooney, 51; Megan Rooney and an unidentified 15-year-old were injured.
A total of four vehicles were involved in the deadly crash. Five teens in the first car were hurt including the driver Michael Lugo, 19; passenger Jose Gonzalez, 19; and three 17 year olds.
In total eight people were hospitalized -- none from the third and fourth cars hit, police said.
Traffic was halted between Exit 55 (Pa. Route 29 - Cedar Crest Boulevard) and Exit 58 (Emmaus Avenue South) for hours. As of 1 p.m. traffic remained stopped as police investigated the wreck. At 3:30 p.m. state police said the road would remain closed for another two to three hours through the evening rush.
I-78 was reopened around 5:30 p.m.
---
Fan, follow and download: Get the latest from NBC10.com anytime, anywhere. Follow us on Twitter, Facebook, our mobile site and NBC Philadelphia. Sign up for our breaking news newsletter. And, get breaking news delivered right to your mobile phone -- just text PHIBREAKING to 639710 to sign up. (Message and data rates may apply.)