ONE OF THE WARMEST WINTERS
As we come to the end of February, "meteorological winter" comes to an end. We use the simple December, January, February period as winter, while the astronomers go from solstice to equinox (Dec. 22 to March 20 in this case). Either way, the weather is not bound by any dates, and we've seen plenty of snow in March and even April in the past.
So, meteorological winter will end up as the 3rd or 4th warmest ever recorded. Here's the latest map to show just how warm the winter has been across most of the country:
The most amazing thing is that, despite the warmth, this winter already has above normal snowfall (26.2" in Phila. so far). Of course, most of that fell during one storm-the January blizzard.
WARM "END" TO WINTER, THEN ...
We've had more than our share of 60+ degree days this winter, and more may be coming. It will be near 60 Sunday, and is well into the 60s Tuesday. Here's the map of temperatures compared to normal for Tuesday:
But it won't be warm all week. Here's the same map for next Friday: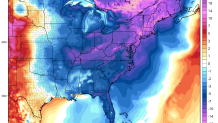 And we're not just talking about cold. It's a stormy pattern, too. We even have relative agreement from two main computer models. Here is the one from the European:
And here's the one from the American model, the GFS for Thursday-more intense and a day quicker than the European, but a very similar picture: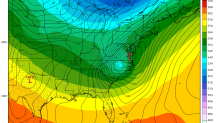 Either one of those solutions would lead to a winter storm in at least part of our area.
Local
Breaking news and the stories that matter to your neighborhood.
ARE THE OTHER INDICATORS "FAVORABLE"?
Aside from the January blizzard, overall weather patterns have obviously not been favorable for winter storms around here. The often mentioned negative Arctic Oscillation (-AO) has not been in place anywhere close to the way it was in our record snowy winter of 2009-10. But the latest forecasts have the AO becoming negative by next Friday:
Those red lines show the possible outcomes. Some of those solutions are "very negative". That gets any meteorologist to take forecasts of winter storms more seriously. Of course, it's nearly a week away, and there is plenty of time for things to change. But as you bask in the 60 degree sunshine Sunday, don't let it fool you into thinking that winter is over.