What's the latest on Hurricane Matthew, the storm's track and the damage left behind? The NBC10 First Alert Weather Team keeps you updated. (Last updated: 12:30 p.m. Sunday)
12:30 p.m. Update
Hurricane Matthew continues to move northeast on its way out of our area. NBC10 First Alert meteorologist Krystal Klei predicts that the system will be completely gone by late afternoon, taking with it most of the rain and leaving some time for a clear evening -- maybe even with some peeks of sun in spots.
Flood warnings and advisories issued for coastal New Jersey and Delaware expire Sunday afternoon. A wind advisory will remain in effect until 6 p.m. with gusts to around 45 mph for several counties and areas in New Jersey and Delaware, including Kent, Sussex, Delaware's beaches, Cumberland, Atlantic, Cape May and the Jersey Shore. Winds are expected to be sustained at 20 mph to 30 mph and last through the day.
Areas west already saw rain clearing Sunday morning. The clearing trend is expected to continue across the area from west to east, with only a few spotty isolated showers lingering.
8:45 a.m. Update
Hurricane Matthew weakened to a post-tropical cyclone, and the storm has been downgraded, but First Alert meteorologist Krystal Klei warns: The storm still packs 75 mph winds in some places.
Local
Breaking news and the stories that matter to your neighborhood.
Matthew continued to move east-northeast at 14 mph along the coast Sunday morning, bringing bands of rain from North Carolina all the way north to our region, where the region awoke on Sunday to rain showers.
Flooding near Milton in Sussex County, Delaware as a result of the rain was reported Sunday morning, and a flood warning was in effect for parts of Sussex and Kent counties through 12:45 p.m. A flood advisory has been issued for the Shore -- including Cape May County, southeastern Atlantic County and southeastern Cumberland County -- until 11:45 a.m. Heavy rain in the area, where up to two inches of rain already fell, is expected to cause "minor flooding," according to the National Weather Service.
The center of the storm as of early Sunday was located about 30 miles southeast of Cape Hatteras in North Carolina. The storm is continuing to track northeast, and the latest models predict that it will continue to move northeast, heading out to sea. It does not appear that Matthew will loop around and hit Florida again as earlier models had predicted.
A cold front passing through our area from the west will help to shove Matthew out throughout the day, likely moving the rain away from the region as the day goes on.
9 p.m. Update
A Wind Advisory will be in effect starting Sunday at 8 a.m. until 6 p.m. (See area shaded in light brown.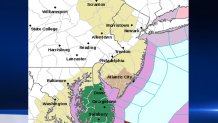 Wind gusts could reach 45 mph. This would be due to a combination of the warmer, moist tropical air being displaced by a massive cold front sweeping in. See the simple but cool image below to get an idea of why the winds kick up so much, especially when there is such a difference in the type of air mass. We're in for plenty of wind Sunday.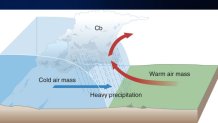 8 p.m. Update
We're getting a very small taste of the outflow from Matthew as rain bands and thick clouds move northward. We forecast the approach of the southerly flow around 1 p.m. and that was just about the time the rain made it to Center City.
I've been explaining for the past few days that this rain was a combination of Matthew rain and clouds (before he heads offshore) and then the cold front. Please see the images below for an idea of the rain direction and surface setup.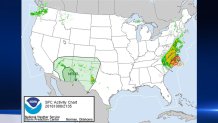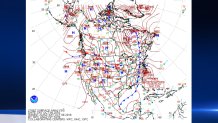 We've been seeing developing fog and as of right now we have a flash Flood Watch in effect until midnight for Kent County, I do also like to include Sussex, simply because of the direction of the moisture –in this case. Otherwise I wouldn't be surprised if we get a fog advisory soon.
We're watching an increase in winds overnight as the cold front FINALLY makes it. Keep in mind we lucked out, because the cold front kept Matthew from moving farther northward, but my thoughts go out to those who have seen great devastation with the hurricane and tropical storm force winds as well as the heavy rain that has flooded so many areas in Florida, Georgia, South Carolina and now North Carolina.
Below please see Matthew's path as it continues to weaken and finally make it out to sea.

12:30 p.m. Update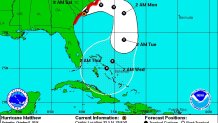 Matthew made landfall and was officially announced during an 11 a.m. update from the National Hurricane Center (NHC). Matthew was a Category 1 hurricane at landfall, with 75 mph winds (so a weak cat 1). It hit southeast of McClellanville, SC. It had downgraded to a Category 1 during 9 a.m. hour, and was riding the coastline very closely ahead of landfall. It continues to move northeast at 12 miles per hour. This will continue to cause major coastal flooding due to storm surge, as well as heavy rain bands and strong winds.
THE THREAT TO GEORGIA AND SOUTH CAROLINA
Saturday morning saw the direct impacts of Hurricane Matthew along the Georgia and South Carolina coast. Beginning with Savannah and stretching to Charleston, Matthew's eyewall lashed the coastline. The eye of the storm hung just 10 to 20 miles off coast at times throughout Saturday morning. At 8 a.m. the hurricane also was downgraded to a Category 1 with winds registering at 85 mph. Through the earlier hours of the morning, the storm was a Category 2 with winds at 105 mph. The strongest and most dangerous part of the storm-the eyewall- brought heavy rain, strong winds, and massive storm surge to the area, especially during high tide early in the morning hours. With the landfall of the eyewall coinciding with the early high tide, devastating coastal flooding is likely to be visible with sun up.
It didn't matter that it was "only" a Category 2 hurricane that hit the area early Saturday. The ocean has been churned up for days by a Category 4 hurricane. Those giant waves don't just flatten when the center of the storm weakens a bit. We saw that with Sandy, which had supposedly weakened ahead of landfall. But the giant Category 3 hurricane had been building the waves for days ahead of landfall. Don't let that last intensity number fool you!

Category 2 Matthew brought reports of gusts above 90mph to areas near Tybee Island and other South Carolina shore points. The massive system has also dumped upwards of 15" of rain along portions of South Carolina's coast. The NWS Charleston reported that a tide gauge at Fort Pulaski peaked at 12.56 feet, which set a new record, surpassing Hurricane David's previous record. Even as the hurricane downgraded to a category 1 at 8am, the storm is still considered very dangerous for the SC and NC coasts through Saturday morning and afternoon.
THE TURN-AND EVEN POSSIBLY A LOOP BACK TO BAHAMAS?
The chance of Matthew tracking all the way up the coast toward us is close to zero. The cold front that will pass through Saturday (bringing showers to our area) will cause Matthew to turn to the right. Then, the HIGH pressure that builds over our area behind the front will help force Matthew more to the south. The latest "Spaghetti Models" show many solutions that have Matthew continuing to turn right until it makes almost a full circle-perhaps hitting the Bahamas again!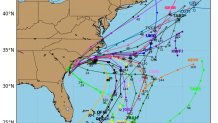 That's a very unusual track, but such "loops" have happened before. But even if that does happen, Matthew is not likely to be a major hurricane. Still, getting hit twice by the same storm would be a bit too much.
[NATL] Extreme Weather Photos: Record Heat Threatens Europe