Multiple Montgomery County homes went up in flames Thursday afternoon in an explosive fire that happened after police responded to a homeowner threatening a code enforcement officer with a gun.
Lower Providence Township Chief of Police Mike Jackson said that a little before 1 p.m., a Lower Providence code enforcement officer arrived to a home along Cardin Place in Eagleville for a follow-up inspection. The homeowner, who has yet to be identified, took out a gun, but the officer was able to flee and call police, Jackson said.
Police responded to the home and engaged with the man at the front of the house, but he went back inside and a short time later, there were "multiple loud explosions" followed by a fire, Jackson said.
Police evacuated surrounding residents as the flames spread to two other properties, emitting smoke that could be seen from miles away.
Jackson said at least one person sustained minor injuries.
Police officers – including SWAT – and firefighters could be seen responding to the incident. It took firefighters several hours to bring the fires under control.
Local
Breaking news and the stories that matter to your neighborhood.
Jackson said that police were still trying to find the man with the gun and that he may or may not be inside the home. Because it was still an active fire scene, though, officers didn't know for sure whether he was inside.
However, he said it was safe for community members to return to their homes.
Three children – ages 14, 9, and 6 years old – were taking part in virtual learning in the house next door when the explosions happened. They called their parents at work. Imane Lofti, their mother, said police officers were able to rescue the children before the home was destroyed.
"You can count your blessings for your family. I'm so happy and thank God my kids made it out okay," Lofti said.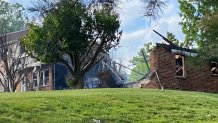 Neighbors said that they grew concerned with the man's behavior over the past few weeks. They claimed he was acting erratic and was saying odd things.
"He said there's no reason for me to leave if I'm going to be sick," said Elsayed Elsayed, a resident.
More than 10 hours after the initial confrontation, the block remains smoldering and the homeowner is still missing. The medical examiner was at the scene.
Investigators have yet to say what caused the explosions.