What to Know
A New Jersey couple as well as a homeless man in the GoFundMe controversy are all accused of making up the story.
Mark D'Amico, Kate McClure and Johnny Bobbitt allegedly conspired with one another to make up a story in order to raise more than $400,000.
McClure's attorney, James Gerrow, says his client was duped by D'Amico and thought she was actually helping Bobbitt.
Update: A newly released audio recording highlights the bitter legal battle between Kate McClure and Mark D'Amico.
A woman charged with bilking GoFundMe donors out of more than $400,000 with a fake story about a homeless veteran was duped by her former boyfriend and genuinely thought she was helping the man, her attorney said Monday.
James Gerrow told ABC's "Good Morning America" that Mark D'Amico was "calling the shots" in the alleged scheme that resulted in criminal charges against Katelyn McClure, D'Amico and homeless Marine Johnny Bobbitt.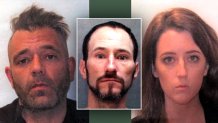 The criminal complaint alleges the three concocted a feel-good story about the couple reaching out to help Bobbitt after Bobbitt gave McClure his last $20 when her car ran out of gas in Philadelphia last year. Then they allegedly spent all the money on luxury items and casino trips.
"People have to understand that this was an abusive relationship. Mr. D'Amico was the one behind this and he was the one calling all the shots," Gerrow said. "She didn't understand or appreciate that this may very well be a crime."
It was unclear which attorney currently represents D'Amico. An attorney who was representing the couple last week declined to comment Monday on Gerrow's allegations.
NBC10 first reported that McClure and D'Amico would be charged with conspiracy and theft by deception. Bobbitt also is charged.
Prosecutors began investigating months ago after Bobbitt claimed he wasn't getting the money that had been raised on his behalf. He later sued the couple.
Copyright AP - Associated Press