The weekend scorcher will give way to dangerous heat Monday with highs in the upper 90s in parts of the region.

In response to the soaring temperatures, Philadelphia issued a heat health emergency warning that will last through Wednesday evening.
The declaration of a heat emergency activates the city's heat programs, including the Philadelphia Corporation for Aging's Heatline, extended hours at select Free Library locations that have been designated as Cooling Centers, home visits by special field teams, enhanced daytime outreach for the homeless, and an annual reminder to the public to look in on older friends, relatives, and neighbors.
Conditions will be dangerous for anyone, but particularly for the elderly, infants and those with health issues. Limit your activity outdoors during the peak heating of the day and hydrate with non-alcoholic liquids frequently.
The cause behind the heat is a huge high pressure system that has been delivering intense heat to the south and southwestern United States. This "heat dome" will shift east and cover most of the East Coast, including our area, through the upcoming weekend and even into early next week.
Local
Breaking news and the stories that matter to your neighborhood.
With feels-like temperatures around or above 100 degrees through at least Monday, outdoor activities may be dangerous. Particularly, elderly, children and those with respiratory problems (since air quality degrades in high heat) should be cautious outside. Everyone should limit time outdoors, especially in the afternoon.
Cumulative heat can be a problem for people without air conditioning, as there will be little relief for a several day stretch. Low temperatures will only fall to the mid and upper 70s over the weekend.
Visiting shopping centers or public buildings with air-conditioning are good ideas. The Delaware beaches & Jersey Shore will have a cooling sea breeze during the hottest afternoon hours, which will bring major relief to those areas. Ocean water temperatures have climbed into the lower 70s, making the water extra inviting.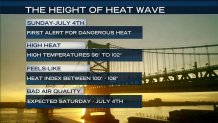 Stay with us on-air and online as we track this extreme heat into next week.