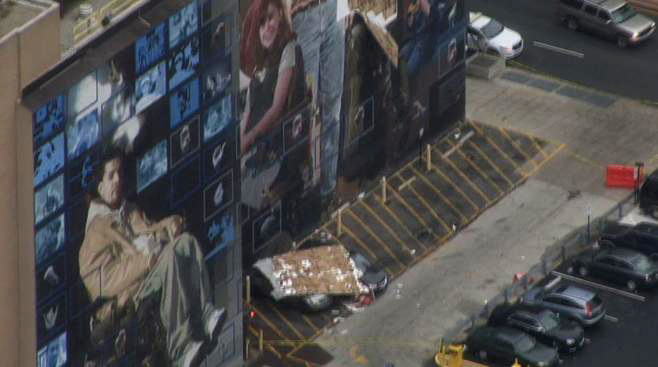 Part of a 12,500-square-foot mural collapsed onto two cars in a Philadelphia parking lot as rain and wind hit the region Monday morning.
The chunk of the "Independence Starts Here" mural -- part of Philadelphia Mural Arts program -- collapsed onto cars parked at the Hahnemann University Hospital Feinstein Lot at Broad and Race streets.
Some sections of the seven-story-tall mural that faces Race Street could be seen flapping in the wind around 10:30 a.m. A short time later, crews could be seen ripping the dangling pieces off the wall.
Local
Breaking news and the stories that matter to your neighborhood.
No one was hurt.
Hahnemann blamed "strong winds affecting the region" for helping bring down the mural, which is affixed to the building.
"The parking lot and sidewalk adjacent to the hospital have been closed to protect pedestrians while we assess and clean the damage," said the hospital.
Artist Donald Gensler installed the mural – featuring various people with disabilities -- on the side of the Hahnemann University Hospital building from 2006 to 2008, according to the artist's website. [[238427591, C]]
In a prepared statement, the Mural Arts program expressed its gratitude that no one was hurt and also explained how this failure of a "parachute cloth" mural is a first:
"Mural Arts Philadelphia learned today about the damage to our 'Independence Starts Here' mural at Broad and Race and immediately sent our crew to assess the damage and aid in any needed immediate work. We are extremely grateful that nobody was hurt. Mural Arts is working with Hahnemann University Hospital to assess the damage and figure out next steps.

"Mural Arts Philadelphia has created over 4,000 murals in the last 30-plus years, over half of which were created using woven panels known as 'parachute cloth.' Of the over 2,000 murals created by Mural Arts using this method, this is the first time that pieces have ever fallen off the wall to which it was adhered. The first mural using parachute cloth was created in Philadelphia in 1989.

"Mural Arts Philadelphia dedicated Independence Starts Here by artist Donald Gensler in October 2008 after three years of creating the project. Also known as the Disabilities Awareness Mural, it is on Hahnemann Hospital, Broad and Race Streets. The project was created in collaboration with the Mayor's Office on People with Disabilities, ArtReach, Kardon Institute and others, the mural is 12,500 square feet and celebrates the disabilities community. The mural was painted in part with the help of people with disabilities, features disabled Philadelphians in a monumental representation of this strong and diverse community.
"Once the mural and wall are stabilized, Mural Arts will work with Hahnemann to figure out next steps for repairing the mural or assessing other options."