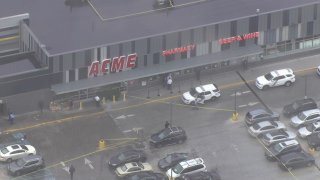 A man was shot and killed and a teenager was grazed by a bullet in the parking lot of an ACME grocery store in Philadelphia's Northern Liberties neighborhood Wednesday.
The 24-year-old and 18-year-old were in the parking lot of the store on the 100 block of W. Girard Avenue around 4:30 p.m. when an unidentified gunman opened fire.
The man was shot once in the head and taken to Temple University Hospital where he died hours later.
The teen was treated for a graze wound to his leg and released, police said.
No arrests have been made and police have not released a description of any suspects. 
There are additional resources for people or communities that have endured gun violence. Further information can be found here.