A woman died, a man was grazed in the head by a bullet and two others were wounded following a hailstorm of bullets near a North Philadelphia school Wednesday afternoon.
Yaniyah Foster, 19, was shot in the head and died as she sat on a stoop near 11th and Thompson streets around 3:30 p.m., Philadelphia Police Homicide Capt. Jason Smith said.
The shootout began when two gunmen approached and opened fire before fleeing the scene. Philadelphia Police Homicide Capt. Jason Smith said Foster and her group were targeted, though investigators could not determine why.
A 23-year-old man who was with Foster was shot in the foot while a 25-year-old bystander suffered a graze wound to the head when one of the bullets pierced the rear window of the car he was sitting in, Smith said. That man is expected to be OK. Police initially said he was 23.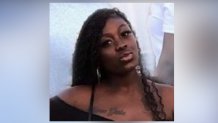 Police said they found nearly two dozen shell casings at the scene and that one man who was in Foster's group returned fire.
A 25-year-old man later arrived with a gunshot wound to the arm at Temple University Hospital, where the other three were also taken, Smith said. That man is believed to be one of the gunmen who instigated the shootout.
Local
Breaking news and the stories that matter to your neighborhood.
The shooting occurred near St. Malachy Catholic School. Classes were over at the time of the shooting though an after-school program was taking place. None of the students were hurt. The school went on lockdown as investigators secured the area.
"My nerves are bad," the mother of a student at St. Malachy told NBC10. "I thought kids were hurt."
Investigators were reviewing security cameras at the school as they continued the investigation.
There are additional resources for people or communities that have endured gun violence. Further information can be found here.
Editor's Note: This story has been updated with additional information from Philadelphia police.