What to Know
A 29-year-old father was killed, while his 6-year-old son and a 31-year-old man were hurt, when someone shot into a car in West Philadelphia Wednesday night.
The shooting took place amid an increase in deadly gun violence in Philadelphia.
At least 55 children have been shot so far in 2021 in Philadelphia, police said.
A man was killed while his 6-year-old son and a second man were hurt after a gunman opened fire at their car in West Philadelphia Wednesday night. The shooting was the latest in which a child was shot in Philadelphia.
The boy, his 28-year-old father and a 29-year-old man were sitting inside a car on the 5300 block of Baltimore Avenue around 7:15 p.m. when a gunman in another vehicle opened fire, Philadelphia police said.
The boy was shot once in the stomach and once in the lower back, his father, later identified as Joshua Butts, was shot twice in the chest and the 29-year-old man was shot once in the chest.
The 29-year-old man got out of the car and flagged down police while Butts drove off and crashed on 55th and Baltimore. Responding officers took all three victims to the hospital.
Doctors pronounced Butts dead a little after 9 p.m. His son and the second man were both left in critical condition. The boy underwent surgery overnight and remained in critical, but stabilized, condition.
Darryl Paris, a witness, told NBC10 the boy was crying and asking for his mother after the shooting.
"It's not fair man," Paris said. "We're throwing our life away. People dying and they're going to jail man. We're losing. Right now we're losing."
No arrests have been made, no weapon has been recovered and police have not released a description of the gunman.
The shooting is the latest incident of gun violence that has hit Philadelphia this year with many children being caught in the crossfire. Among the latest young victims of gun violence in the city was 16-year-old Kadeem Green who was killed earlier on Wednesday along the 2900 block of North Taney Street in North Philadelphia.
There have been at least 55 children shot in Philadelphia so far this year, police said.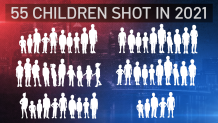 "It sickens me, it sickens all of us and we're tired of seeing this, quite frankly," Philadelphia Police Commissioner Danielle Outlaw said about the gun violence.
As of Tuesday night, the city had already seen 145 homicides in 2021, according to Philadelphia Police Department crime data. That is a 32% increase from the same time last year, which was already a year that ended with the second-highest homicide total that the city had seen in six decades. Meanwhile, statistics from the Office of the Controller show 442 nonfatal shootings as of April 12 of this year.
There are additional resources for people or communities that have endured gun violence in Philadelphia. Further information can be found here.