What to Know
Police said a gunman shot at a plainclothes officer who was sitting in a car on Germantown Avenue around noon Tuesday.
The officer fired back and the suspect fled the scene. The officer was not hurt in the shooting.
Police say a 43-year-old Philadelphia man was identified as the suspected shooter.
A judge granted police an arrest warrant Wednesday for a man accused of firing at a plainclothes Philly cop in Germantown.
Police say Anthony Cromwell, 43, fired a gun into an unmarked police vehicle with a plainclothes narcotics officer inside.
His identity was not known immediately after the shooting around noon Tuesday, which started a gun battle in the neighborhood where several families were outside.
"Families are out. Kids are out enjoying a nice summer day and this kind of thing happens," Philadelphia Police Captain Sekou Kinebrew said.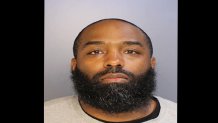 The unmarked police cruiser was parked on Germantown Avenue shortly before noon. A gunman, who police now say is Cromwell, fired into the car at the officer, starting the shootout.
"I was in my bathtub, I heard the shots," a longtime resident, who did not want to be identified, told NBC10. "I started hiding down in the tub."
The resident told NBC10 she had turned her street into a play area where kids could hang out and get free lunch. Tuesday's session ended prematurely.
"This happened mid-afternoon," she said. "I told them to shut the play street down. The lunches are over. We can't give out lunches if they're shooting."
The officer was not hurt in the shootout and the suspect fled the scene. Investigators are checking hospitals to see if the gunman was struck.
Local
Breaking news and the stories that matter to your neighborhood.
Police have not yet determined whether the gunman knew he was shooting at a police officer.
The Fraternal Order of Police is offering a $5,000 reward for information leading to Cromwell's arrest.
Cromwell is considered armed and dangerous, and people who see him are urged not to approach. Instead call 911 or 215-686-8477 to report a tip.
There are additional resources for people or communities that have endured gun violence in Philadelphia. Further information can be found here.