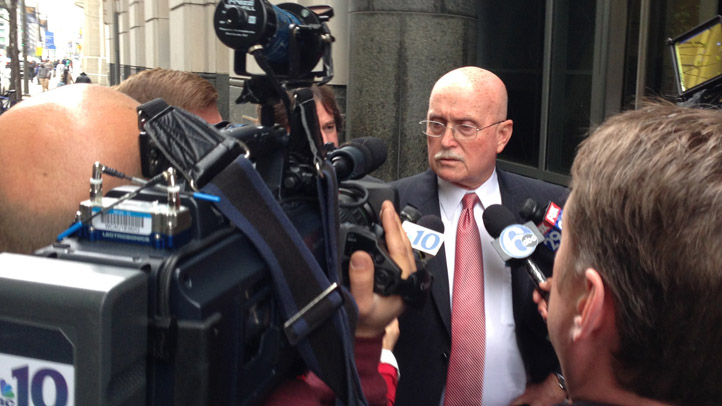 After taking a sick day, defense attorney Jack McMahon roared back into Philadelphia courtroom 304 Tuesday -- moving to have his client, Dr. Kermit Gosnell, acquitted on murder charges. A move he partly achieved.
A tall, bullish man with a freckled, shiny head tried not to let a respiratory bug stifle his fiery assertions to Judge Jeffrey Minehart that the prosecution's evidence didn't support their argument that Gosnell delivered babies alive before snipping their spinal cords.
The prosecution has spent five weeks presenting its case against Gosnell. The former abortion doctor was charged with first-degree murder in the deaths of seven babies. He is also charged with third-degree murder in the death of patient Karnamaya Mongar.
Local
Breaking news and the stories that matter to your neighborhood.
Fighting a phlegm-filled cough, McMahon argued not just to Judge Minehart, but to the two dozen or so journalists and citizens sitting in the gallery. In a black pinstripe suit and red tie, the 60-year-old frequently turned to share glances with those sitting in the pew-like benches behind him.
The media section swelled from local outlets and the Associated Press to journalists from national cable networks and bloggers from conservative pro-life websites. Three sketch artists captured visual details of the courtroom, some using binoculars.
Among the media, Dr. Alveda King, the niece of civil rights leader Dr. Martin Luther King, Jr. King, who received two abortions herself, says she's at the trial blogging to "help people understand" abortion is "wrong."
"Those abortions hurt me and killed my babies," she said. King says she now believes it was wrong to undergo the procedures.
Back before the judge, Gosnell sat quietly on the left side of the room. The 72-year-old took copious notes as his attorney debated the validity of the prosecution's case. A hardcover version of Knight's Forensic Pathology sat next to him.
Arguing his motions, McMahon angrily shouted at the prosecution as Ed Cameron tried to butt in on McMahon's argument.
"I don't interrupt you," he exclaimed with his arms crossed so tightly, his suit jacket strained.
Minehart, leaning back and closing his eyes at times to process the arguments, eventually ruled the evidence did not support bringing three of the murder charges to the jury. He also dropped one count of infanticide and five counts of abuse of a corpse.
The media rushed from the court after the judgment to call their editors and alert followers on social networks.
Observer Tyrone Nunnely expressed disappointment in the partial acquittal, but believed there were so many charges against Gosnell, some were bound not to stick.
"You expect not to get them all," he told NBC10.com.
This was the fourth time the 75-year-old and his 65-year-old wife, Linda, have come up from Virginia to hear the proceedings.
"It's ridiculous what this man had done," Linda, a mother of two, said. The couple has visited the site of Gosnell's former West Philadelphia clinic, the Women's Medical Society.
"We're carrying the message to other people who are not aware [of the case] in our community," she said.
After Minehart's rulings and a lunch recess, Gosnell gave a long stare to the media section. He offered a slight smile under his furrowed brow.
By then, the gallery had swelled to near capacity as Drexel University law students filled the seat to see the proceedings in action. A pre-planned trip, students were eager to see the high-profile case in action.
But all that was left for the day was character witnesses testifying on behalf of former Gosnell employee Eileen O'Neill -- a far cry from the day's earlier revelations.
McMahon will formally begin presenting his case Wednesday.