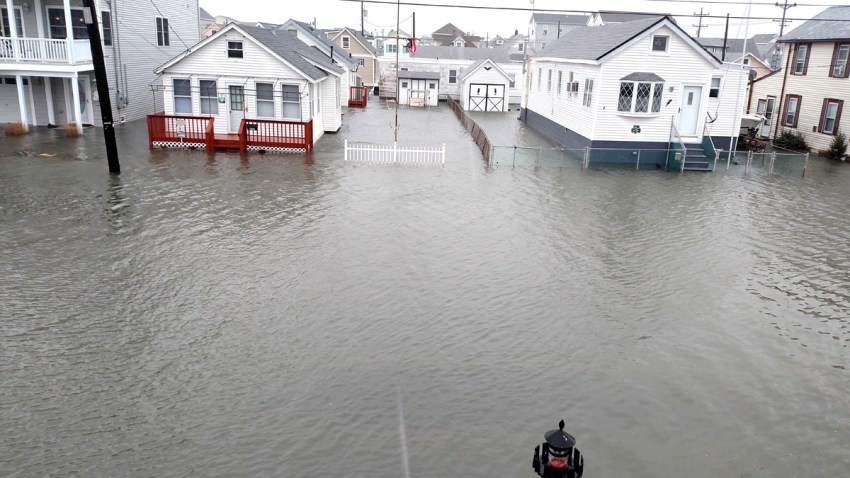 Record Coastal Flooding
The water reached record levels with the Blizzard of 2016 in several places along the coast. Lewes, Delaware, Cape May, NJ and Stone Harbor, NJ, among others broke records set in Sandy in 2012 or the 1962 Nor'easter. It was a combination of winds gusting to hurricane force for a few hours plus a natural high tide enhanced by a full moon. Serious flooding occurred along the Jersey Shore in many places.[[366294811, C]]
What Makes it Extra Troubling
Record coastal flooding almost always occurs because of onshore winds over a long period of time. High tides occur about every 12 hours, and when a Northeast or East wind persists, each succeeding high tide gets higher than the last. That is what happened with the Nor'easter of 1962. It lasted for days, and FIVE high tides. The Jersey Shore wasn't very populated back then, which was a good thing. The floods cut Long Beach Island into pieces, as the ocean met the bay. Waves more than 40 feet were reported at Rehoboth Beach, Delaware, which destroyed the boardwalk. Beachfront homes were destroyed over multiple states. And 40 people died in the storm.[[366295291, C]]
So, wait a minute….we just broke a record that took FIVE successive high tides and THREE DAYS to build with a storm that only took ONE high tide to do it (we were lucky-the winds changed, and the next 2 high tides were not as high as the first). Think about how high the water would have been if the storm had stalled like the '62 storm, allowing the water to start at record levels, and build, and build, and……
Local
Breaking news and the stories that matter to your neighborhood.
Here are some incredible home videos shown by philly.com reporter Amy Rosenberg in an article from 2013.

Do a simple web search for "1962 Nor'easter" and take a look at the pictures-up and down the coast, from LBI to Delaware. It's chilling. And yet the Blizzard of 2016 had higher tides in some places.[[366301711, C]]
Not many people were at the shore in those days, especially in March, when the storm hit. That damage was from the ocean, even in Margate (where many people apparently think this can't happen-see below). I'm not talking about Bayside flooding, where the water rises and moves gently down the street. On the ocean side, there is enough force and power to knock down houses and push them blocks inland. That power is potentially deadly, unlike the floods from the Bay.
And Then Came Sandy
And then there's Sandy. Sandy had weakened from a Category 3 hurricane after it hit Cuba, and wasn't even classified as a hurricane by the time it made landfall near Brigantine, NJ. You know the rest: the 2nd costliest storm in U.S. history. In New Jersey, the worst damage was clearly at the northern beaches, which were on the right, or stronger side of the storm.
Here is what the ocean did at Mantoloking:[[366908221, C]]
That's the ocean meeting the bay, just as it did in Long Beach Island in 1962. Record coastal flooding occurred at some beaches in South Jersey and Delaware, but it wasn't as bad as in North Jersey.
And imagine how bad it would have been if it was still a Category 3 hurricane? It could have been that strong in July or August, when the ocean temperatures were highest, rather than the end of October, when it did hit.
And the Extra Scary Part
Why did the Blizzard of 2016 have a higher coastal flood level than the '62 Nor'easter anywhere in New Jersey or Delaware? That's because sea levels have risen considerably in recent decades. Look at how much it's risen-and also the trend.[[366908551, C]]
Sea level has risen worldwide in the past 50+ years, but more along the U.S. East Coast than in most other areas. Do you think this trend is simply going to stop, or reverse itself? Of course, it won't. Twenty years from now, the average tide level will be significantly higher than today. So, a storm like the one last weekend will lead to a significantly higher flood stage than today. And that means significantly more damage. It also means a much greater threat of severe ocean flooding. And a much greater chance of the ocean meeting the bay-especially in places like Margate, that don't have dunes to protect their beaches.
This is for You, Margate, and Other Coastal Areas:
The flooding that we showed in Margate during the storm was from the Bay, and not the ocean. This seems to have given many people there the idea that it did NOT flood on the ocean side. But it did. Here are a couple of pictures from Amy Rosenberg at Exeter Street and Iroquis Avenue:[[366909481, C]] [[366910011, C]]
Yep, that's flooding from the ocean-from a storm with just ONE high tide! Imagine a Nor'easter with FIVE high tides-each higher than the last. Oh, and it's 10 or 20 years from now when sea level is even higher than it is now. That water from the ocean is coming in, and only well-designed and managed dunes could stop it. Otherwise, the ocean will meet the bay in Margate, water will rampage through the streets, knocking $10 million homes around like they were toys, threatening the lives of anyone who dared stayed on the island.
(I have a special affection for Margate and its people, as illustrated in a past blog)
Hey, Margate, is that worth continuing to reject a FREE dune project?

Glenn "Hurricane" Schwartz
Chief Meteorologist, NBC10 Philadelphia