ANOTHER GOOD ONE
It's getting hard to count, but this will be the 9th straight weekend with what most people would consider good weather. It will get a bit hot Sunday, but barely to 90 degrees, and not too humid. Saturday's humidity will be low.
Here are some computer forecast maps for Sunday. First is the temperature compared to normal. The red colors are the most extreme. The second is the dew point map for Sunday afternoon. The mid 60s is a little humid for late August, but when it gets to 70-that's muggy.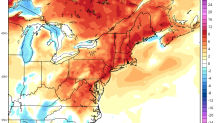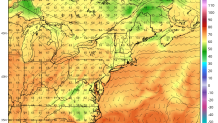 (And, in case you were worried, "Erika" will have absolutely NO impact on the U.S. East Coast this weekend).
THE FORECAST:

SATURDAY
Phila. area: . Sunny and warmer. Still not humid. High 87. Chance of rain near zero
Local
Breaking news and the stories that matter to your neighborhood.
NJ Shore: Sunny and nice. High 80. Chance of rain near zero. Ocean temperature 75. Wind SW 10-15 mph
DE Beaches. Sunny and warm. High 88. Chance of rain near zero. Ocean temp near 80. Wind SW 10-15 mph
Poconos: Mostly sunny and nice. High 78. Chance of rain near zero.

SUNDAY
Phila. area:. Mostly sunny and hot. High near 90. Chance of rain 5%
NJ Shore. .mostly sunny and nice. High 82. Chance of rain near zero
DE Beaches. Mostly sunny and hot. High 90. Chance of rain near zero
Poconos. Partly sunny and warm. High 80
Glenn "Hurricane" Schwartz
Chief Meteorologist, NBC10 Philadelphia