A "QUIET" SEASON TURNS LOUD-REALLY LOUD
It was the first tropical storm of the 1992 hurricane season-and it was awfully late in the season to have the first storm. There were only SIX storms that whole season-one of the least active in history. But for those in South Florida, it would be the storm of their lives.
On August 20th, Andrew was just a 60 mph storm in the Atlantic, way east of the Bahamas. Storms in that area have a strong tendency to curve out to sea, becoming harmless "fish storms". And it was so disorganized that the official discussion on the 20th said: "some strengthening is possible if Andrew survives through the day." Only 3 days later, Andrew was a monster Category 5 hurricane about to slam into the Miami area.
The hurricane forecast computer models were, of course, not nearly as good as those today. The ones the National Hurricane Center (NHC) did have showed a range of tracks from straight west into Cuba to almost due north out to sea.
MEANWHILE, BACK IN NORTH CAROLINA
Local
Breaking news and the stories that matter to your neighborhood.
As I watched Andrew with interest from my home outside Raleigh, North Carolina, my entire future was up in the air. I was out of work-again, after having my contract at WRAL-TV not renewed.
I had told my best friend, Jim Reif: "I like TV, but maybe TV doesn't like me." The application papers were in front of me, as I pondered whether to go back to the National Weather Service.
ANDREW TURNS, AND "EXPLODES"
Meanwhile, Andrew was on the way to becoming history. The curve to the west was combined with rapid strengthening. The map below shows how winds increased from 60 mph on the 21st to 175 mph only TWO DAYS LATER!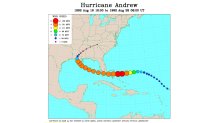 (There is something wrong with this map-I'll explain later)
Now, Andrew was becoming a major threat to all of South Florida. This not only included Miami and Ft. Lauderdale on the East Coast, but Ft. Myers and Naples on the West Coast of the state.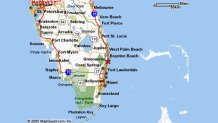 Look on the left side of the state. My buddy, Jim Reif, was Chief Meteorologist at WINK-TV, centered in Fort Myers. The WINK coverage area went down to Naples and Marco Island (some very ritzy real estate!) and northward to Port Charlotte. Even with a hurricane tracking westward across the state, there wouldn't be a whole lot of weakening. The peninsula is flat and surrounded by water. So a major hurricane heading toward Miami was a BIG deal.
"WANT TO WORK A HURRICANE?"
Jim called me on August 22nd. "Want to work a hurricane"? Those were the first words out of his mouth. He had checked with his News Director, who thought it was a good idea to have a meteorologist help out with the coming huge workload. Especially one with hurricane experience AND who also knew the geography of Southwest Florida. Since I had worked at NHC in the 70s, and been one of the hurricane specialists at The Weather Channel in the 80s, and visited Jim plenty of times in Fort Myers, it was a "no-brainer". This was especially true since I was unemployed at the moment anyway.
Jim booked me on the first plane the next morning. I arrived at the Fort Myers airport, and his wife picked me up and took me to the station. They put me right on the air, and I was there for 30 straight hours. Jim and I worked together much of the time, but he was clearly the leader, and incredibly knowledgeable about hurricanes. He had been at the station since 1979, and given hundreds of hurricane seminars to help educate the local population. And they needed plenty of education about hurricanes. Almost all were transplants from the North, mostly the Midwest or even Canada. They didn't know a hurricane from a walking cane.
[NATL-MIA]A Look Back at Hurricane Andrew 25 Years Later
ANDREW SLAMS INTO THE FLORIDA EAST COAST
Hurricane Andrew was incredibly intense, but it was also incredibly small. While Superstorm Sandy became the largest hurricane on record in 2012, Andrew was one of the smallest hurricanes to ever make landfall in the U.S. Its eye was only 15 miles in diameter, and the core (called the "eye wall") looked like a donut surrounding the eye, with destruction reduced drastically just outside the donut. The Miami radar showed it clearly. I called it "The donut of destruction".
Notice where Miami Beach is on the above map. It is well north of the donut. So, much of the Miami area did NOT get hit with the worst part of the hurricane. But the area hit by the donut was devastated. Afterward, it looked like a 20 mile wide tornado had hit the area. In the end, it caused $25 billion in damage. But if it had hit a bit farther north, with the worst hitting Miami and Ft. Lauderdale, the damage would have been more than $100 billion.
At the time it hit, Andrew was designated as a Category 4 hurricane, with sustained winds up to 145 mph. But a careful, and unprecedented review, caused NHC to later upgrade Andrew to a Category 5 hurricane with 165 mph maximum sustained winds. The upgrade came in 2005-that's 13 years later!
"DON'T PAY ATTENTION TO WHAT DAN RATHER JUST SAID"
WINK was the CBS affiliate in Southwest Florida, and, at the time, Dan Rather was the main network anchor. He had made his reputation in Texas in 1961 during Hurricane Carla. It made him a star, and took him to the network, and eventually as THE anchorman of CBS. He had a reputation in the weather community of someone who was glad to "hype" a coming hurricane, and then blame the National Hurricane Center if it wasn't as bad as expected (I heard his radio commentary of Hurricane Gloria live while in the car).
Mr. Rather was obviously very excited as Andrew was making landfall in South Florida. Then, he obviously got carried away. "Next stop: Fort Myers", he gushed. Jim and I were flabbergasted. Andrew was a monster, but an unusually small monster, and it was moving straight to the west. There was no way it would come close enough to Fort Myers to cause ANY damage.
The switchboard at WINK lit up. "Your weather people said Andrew was not coming right at us. But Dan Rather just said it was." They got numerous calls from frantic people-these Midwesterners and Canadians who had never seen any hurricane, let alone a major one.
So, Jim and I decided that the only responsible thing we could do was to get on the air and say directly to the camera: "Don't pay attention to what Dan Rather just said." And Jim had enough credibility in the area that the viewers believed him, and probably felt relief. I was incredibly proud of my friend, who later became a hero during Hurricane Charley in 2004, when he did the opposite. The hurricane was supposed to track north of his area, but he saw evidence of a turn, and warned his viewers ahead of everyone else
THE POSTSCRIPT
Andrew destroyed the area just south of Miami. When I traveled to see the damage, it was incredible. People couldn't even find where there houses used to be. It was indeed like an EF-5 tornado hit the area. But, instead of it wrecking one mile or less, Andrew destroyed everything in a TWENTY MILE zone.
There was a TV weather hero made in Miami during the storm. Brian Norcross was supposedly on thin ice at WTVJ, the NBC affiliate. But his lifetime of study about hurricanes, and years of emphasizing preparedness of the community paid off. He worked about 24 hours straight, calming the frightened, and gave step-by-step instructions to individual callers live on TV. At the peak of the storm, he and the anchor broadcast from a concrete storage room for their own safety. He clearly saved many lives the night Andrew hit. Later, he would get thousands of letters of thanks, plus standing ovations as he entered restaurants.
As for me, the management at WINK liked the job I did enough to offer me a contract to stay. My career was saved. And three years later, the call came from Philadelphia. Still here 22 years later.