The flames from the rowhomes in the 6500 block of Gesner Street have dissipated, but three days after the deadly blaze, fire burns in the hearts of some neighbors who say the Philadelphia Fire Department's response was inadequate.
Damylsh Colon paced up and down the street on Tuesday, surveying the charred homes. She was visibly in a daze, with her hand to her face as she recalled the block she called home for 10 years.
"It's hard for us, for everybody in the neighborhood. They say they came in three minutes but that's not right. We was all out here calling them and we had to go over there to get them," said Colon.
Local
Breaking news and the stories that matter to your neighborhood.
"They could have saved them. They could have saved the kids if they came on time."
The City of Philadelphia says the fire department's response time was 3 minutes. Some residents say it took as long as 30 minutes. Between the two versions of the story is a lot of anger and distrust. Neighbors in the southwest Philadelphia community are grappling with the loss 4-year-old twin sisters Maria and Marialla Bowah, 4-year-old Patrick Sanyeah and his 1-month-old brother Taj Jacque.
"For some, it will be incomprehensible that four children could die in a house with a fire station around the corner," Mayor Michael Nutter acknowledged from City Hall last night six people were arrested during a community protest in front of the firehouse.
Ladder 4 Engine 40 sits just 152 steps from the center of the block -- the scene of Saturday morning's fatal fire. It took us 74 seconds to walk from the fire company's front door to the fire scene.
That Colon and other community members are concerned and some even consumed with questions about response time could be viewed as a coping mechanism.
"That might be easier in the short term to just focus on that, because at least they are doing something active, rather than sitting with the grief," explains Dr. Carmen McLean, a clinical psychologist and assistant professor at Penn.
Experiencing a traumatic event can also skew a person's sense of time.
"Even with bystanders. It definitely makes sense that there is a subjective slowing of time," said McLean. The more severe the stress or trauma, the more a victim's perception of time can be affected.
"We see it with life-threatening situations, especially," McLean said. Think of it this way – when you're going through a routine like making coffee or driving to work, you're not paying acute attention because what you're doing is very practiced. Life-or-death events, however, require your mind to be in a hyper state of alertness.
Peter Elpha, another resident of Gesner Street said he believes the fire department did the best they could do. Elpha says he saw firefighters in the process of setting up hoses within five minutes of the start of the blaze.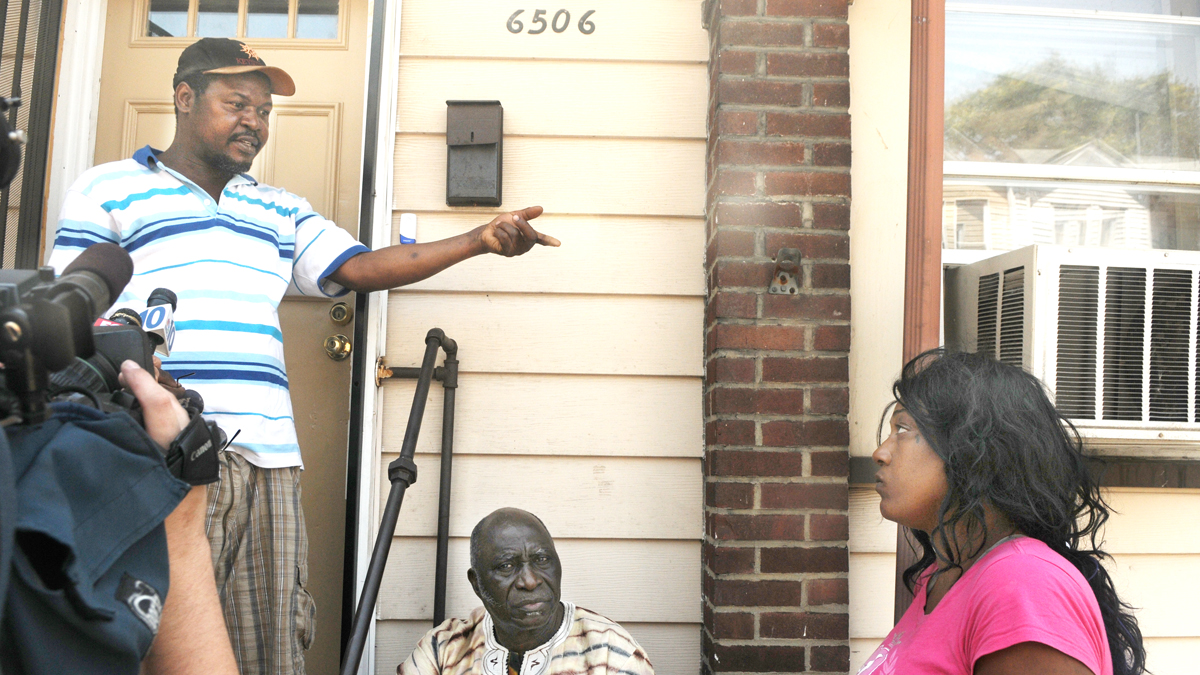 "I came out of my house and I saw a fire truck here, and a fire truck there," he said, pointing to each end of Gesner Street. "The people were doing their job. It is a process that takes time. Give credit where credit is due."
Neighbors Peter Elpha (left) and Keisha Burgess disagree on fire department's response time.
Dr. James Luebbert is the Director of Child and Adolescent Psychiatry at Jefferson University Hospitals. He believes the best thing city officials can do now is keep providing information. "If the community feels that information is not enough, then there needs to be investigations so that a whole picture can be obtained for the event."
Moving beyond an angry state of mind might not be easy for people on Gesner Street, but it may be crucial.
"In the immediate aftermath, it's important to really just focus on basic needs. Basic needs and social support. People should try to draw on their support systems," McLean advises. "It might be important for them to accept that they might not really ever know for sure what the truth is, and that either way, however this tragedy occurred, these lives were lost and to focus on healing from that."
Colon remains convinced that 30 minutes passed between the time she saw flames and the time she saw firefighters trying to put them down. Right now, it seems unlikely that anyone or anything will change her mind. She too is a victim.
"That was my house. It was the only thing I had," Colon said. "I have nothing. These are not even my clothes. These are my girlfriends' clothes."