Bianca Roberson, the high school graduate gunned down in an apparent road rage shooting as she drove down a Chester County highway last month, will be laid to rest Friday.
Her family says the service will be open for all who would like to attend and pay respects to their daughter.
A viewing will be held from 8 - 10:45 a.m. Friday at St. Paul's Baptist Church along Hagerty Boulevard in West Chester, Pa. A tribute service will follow. The 18-year-old will be interned at a Frazer cemetery.
Roberson was trying to merge into a single lane on Route 100 last Wednesday when police said another driver, 28-year-old David Desper, pulled out a gun and shot her in the head. The teen was killed instantly, her car veering off the road into the woods.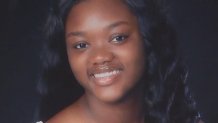 Authorities said both drivers were jockeying for a spot and Desper became enraged. They described the incident as a case of road rage. He's been charged with a number of crimes including murder.
The shooting and resulting manhunt for Desper captured national attention. Roberson's father, Rodney, called the killing a "hate crime."

Local
Breaking news and the stories that matter to your neighborhood.
"I want them to throw the book at this guy," the father told NBC10 on Monday. "Throw him under the jail."
Prosecutors have not indicated that racial discrimination was a motivating factor in the shooting.
Desper, who is being held without bail, was set to appear in a Chester County court next Wednesday, but that preliminary hearing has been delayed until mid-August, court records show. He has yet to enter a plea in the case.
Rodney Roberson tells NBC10 he and his family plan to attend the proceedings.
Bianca was an honor student who just graduated from Bayard Rustin High School. She planned to attend Jacksonville University in Florida and major in Criminal Justice to one day become an FBI forensic agent.
A scholarship is being founded at the university in Bianca and her brother Mykel's memories. He died several years ago from a heart condition.