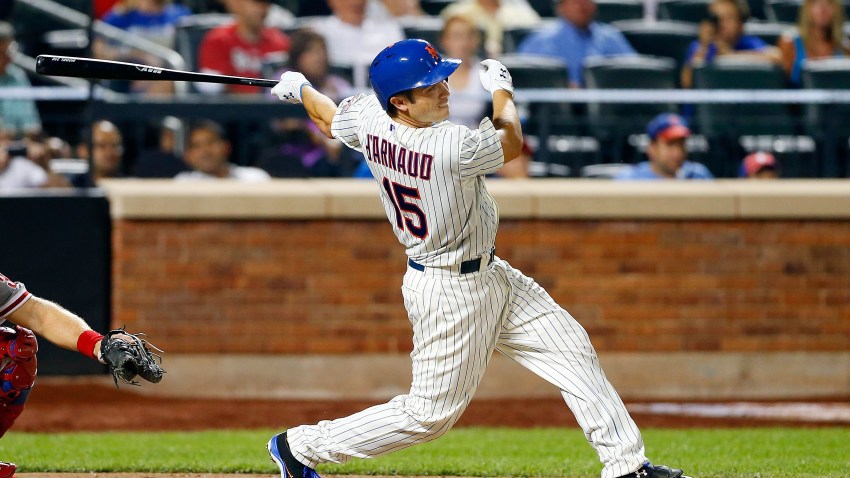 If you're still watching the Phillies, you might have noticed a somewhat familiar name during this week's series with the Mets, specifically on the back of the jersey of the New York catcher. His name is Travis d'Arnaud, and if his name rings a bell, it's because he used to be one of the best position player prospects in the Phillies farm system before a series of trades took him to the Mets system, where he made his Major League debut on August 17.

D'Arnaud, who was drafted out of high school by the Phillies with the 37th pick of the 2007 draft, rose up the ranks of the organization, and found himself as a 20-year-old with the Single-A Lakewood Blue Claws in 2009, where he hit 13 homers in 126 games.

That would be the last season d'Arnaud would spend in a Phillies uniform, as he was part of the trade package that brought Roy Halladay to Philadelphia prior to the 2010 season. It was then that his stock really began to rise, as he was named Baseball America's the 81st best prospect in the game. He would jump up that list over the next two seasons, landing at number 36 prior to 2011, and number 17 prior to 2012, following a season in AA where he hit 21 homers to go along with a .914 OPS.

While it looked more and more like d'Arnaud would be the catcher of the future for the Blue Jays, he was once again traded for a Cy Young Award-winning pitcher, this time R.A. Dickey, who was to solidify the Toronto rotation.

After a foot injury sidelined him for much of the season, d'Arnaud was called up to the Mets on August 17th, and has received the lion's share of the catching duties since making his Major League debut. In nine games coming into Wednesday night, d'Arnaud has a .125/.290/.292 line, with a homer and three RBIs in 24 at-bats. His first homer came on Sunday afternoon, in an 11-3 loss to the Detroit Tigers.

The Phillies have made quite a few trades over the past few years, and d'Arnaud was part of perhaps the best one, as it brought Roy Halladay to Philadelphia, where he proceeded to own opposing hitters before falling prey to a series of injuries in 2012. What's interesting is that d'Arnaud is the last player in that trade to make the Majors, as both RHP Kyle Drabek and OF Micheal Taylor have both spent time on big league rosters.

Although d'Arnaud was mostly quiet during the series against the Phillies – he went 1-for-11 – he figures to have an awfully bright future of terrorizing the Phillies 19 times a season with his bat, while receiving for one of the better rotations in the National League in the coming years.