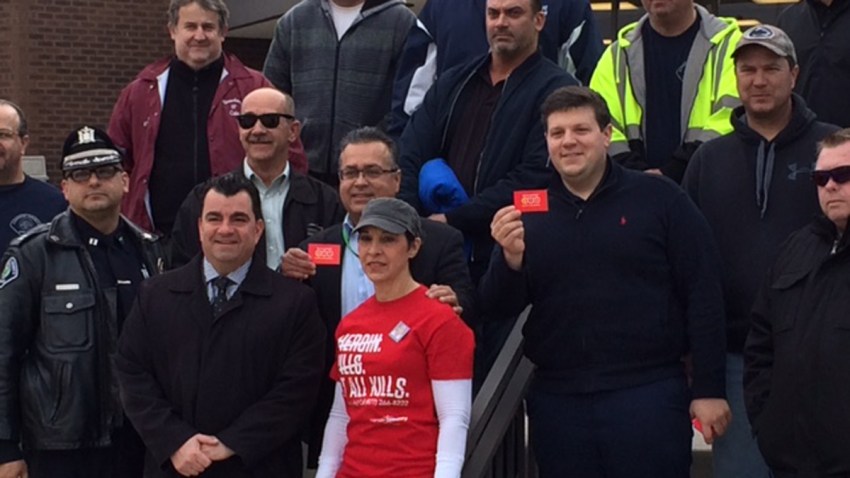 For Patty DiRenzo, spreading awareness of New Jersey's Overdose Prevention Act is personal.

DiRenzo's son, Sal Marchese, was 26 when he died in Camden of a heroin overdose in 2010. Police found evidence that another person was with Marchese at the time of his death, but left him in the car and never called for help.

"Somebody was with him in his car, but they left him alone to die," DiRenzo said on Wednesday as she hit the streets in Camden to hand out information cards about the Overdose Prevention Act. "So it's very important to me to make sure that other parents don't endure the pain that we're enduring."

Since her son's death, DiRenzo made it her mission to make sure that what happened to him doesn't continue. She was instrumental in pushing for New Jersey to pass the Overdose Prevention Act, which, like Pennsylvania's Good Samaritan Law, stipulates that if a person calls 9-1-1 to get someone who is overdosing help, they won't be arrested.

Camden County Police Capt. Gabriel Camacho praised DiRenzo's tireless work around awareness and said she turned her son's death from a "tragedy into a triumph."

"It's not a police problem. It's everyone's problem," Camacho said of drug addiction. "And until it's treated as a society problem, people like Miss DiRenzo are doing an amazing job. It's a partnership."

DiRenzo joined Camden County Police officers Wednesday to hand out informational palm cards about the act and spread awareness. She said hitting the streets in Camden, where drug sales and use are rampant, is the best way to spread the word about the law to the people who need to know it most.

"Coming out on the streets where the kids are is the most effective way to do it," DiRenzo said. "This is where we need to be. If it gets through to just one person, then it worked, but I hope it gets through to more than one person today."
---
Patty DiRenzo is among dozens of people NBC10 interviewed extensively as part of Generation Addicted, our in-depth exclusive look at the tragic epidemic of heroin and opioid addiction in our region and beyond. To learn more about Patty and Sal's story, watch Generation Addicted and see the online report here.