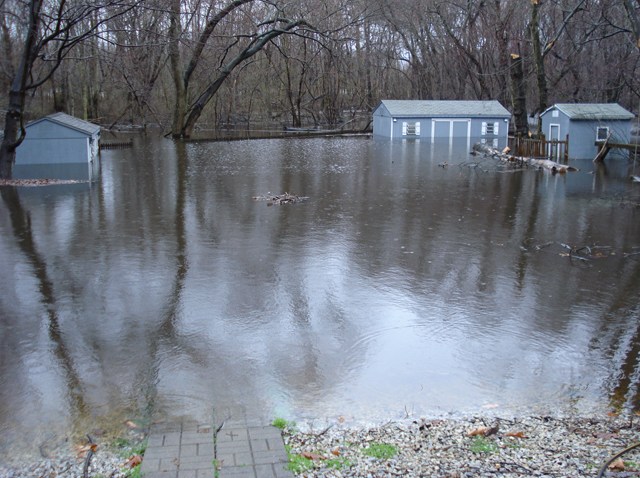 While last weekend's drenching rainstorm may be long gone, at least one neighborhood is still dealing with its aftermath.

West Deptford, N.J. homeowner Barbara Holland sent NBCPhiladelphia.com a desperate email late Monday asking for help. She said the storm left her backyard flooded higher than some swimming pools and that no one is taking responsibility.

Here is part of the email:
"The storms and severe weather has flooded many of our properties in our neighborhood, and soon it might overtake our homes. The water started from ponds on Sunoco's property, and since their closing there has been little maintenance to their property and control the water situation. I have called Sunoco, West Deptford Township, and the DEP and each party tells me they cannot help me."
When we visited Holland's Asbury Avenue Tuesday, nothing had improved. The waters were just inches away from overtaking her 6-foot fence.

Holland's good friend Joe Sparico says he's never seen anything like this before.

"For some reason I cannot understand why the city and somebody doesn't have some kind of wall, cement wall that drives water away from this thing," Sparico said.

The neighborhood borders Sunoco's now-shucked Eagle Point refinery. The homeowners believe the oil company hasn't been taking care of the grounds, including a water drainage system, since the refinery let go most of its staff last year.

Residents also say the township refuses to help and continues to point the finger at Sunoco.

A spokesperson for Sunoco says they have been properly maintaining the refinery's grounds and just cleaned out the drainage system last week. They say the sheer amount of water that fell has caused the Delaware River to backup into the system and flood the surrounding area.

West Deptford Township also says the neighborhood has always been located in a low-lying area and is prone to flooding. They said while some residents have been asking for a pump truck to come and lower the water level on their properties, it wouldn't help.

A spokesperson says the water would simply go into the storm drains and end right back in their backyards.

So until the waters recede, Holland and her neighbors have to sit and wait. That waiting has Debra Byers worried that her sump pump will fail.

"If I shut off my pumps, it'll get about six inches deep in my basement," she said. "So I'll just have to pump for days."