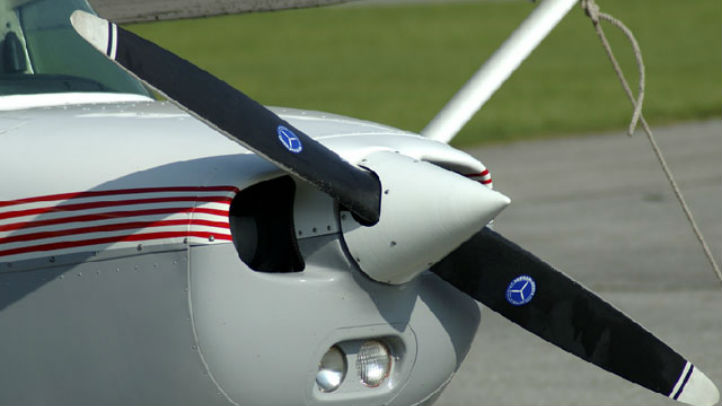 A small plane on a training flight crashed moments after takeoff from a northern New Jersey airport Friday, killing a flight instructor and seriously injuring his student pilot.

The single-engine Diamond took off around 1 p.m. and immediately began experiencing difficulty climbing and barely got above the level of nearby rooftops, said Paul Dudley, director of Linden Airport. The pilot radioed a distress call before the plane went down on freight train tracks west of the airport.

Linden police Capt. James Sarnicki said police received several 911 calls, including one from a witness who said he heard the plane's engine straining as it tried to climb.

The pilot was likely trying to circle back to the airport and may have tried to land on the grounds of a former GM plant that offers a wide, flat expanse, Dudley said. The train tracks run next to the site west of the airport and run parallel to busy Routes 1 & 9. The plane's nose was crushed in, television news footage showed.

Police said the instructor, 58-year-old Craig MacCallum of Montclair, was pronounced dead at Robert Wood Johnson University Hospital in Rahway.

The unidentified 19-year-old student pilot was in critical condition at University Hospital in Newark, Sarnicki said.

It wasn't immediately clear who was flying the aircraft at the time of the distress call, but Dudley said the plane was equipped with dual controls for training.

The plane was registered to a company in Denville, Federal Aviation Administration records showed. Dudley said the plane was operated by Best In Flight, a flight training company that has been based at Linden Airport for about two years. The company didn't immediately return a phone message seeking comment Friday.

Linden Airport is several miles south of Newark Liberty Airport and is the site of numerous training flights, Dudley said.

The train tracks where the plane landed are not used by New Jersey Transit and didn't affect commuter service, a railroad spokesman said. The crash occurred in an area that NJ Transit has been considering as an emergency storage area for trains to protect them from possible flooding as a response to Superstorm Sandy, spokesman John Durso Jr. said.
Copyright AP - Associated Press