Anthony Watson is set to become Jamaica's first Olympic skeleton athlete but his way to the Games started in Vineland, New Jersey.
After competing in three sports (basketball, soccer and track and field) at Roberts Wesleyan College, what attracted you to skeleton?
I was always fascinated by bobsled due to the famous "Cool Runnings" movie. I watched skeleton for the first time on a highlight reel of the Olympics in Torino. Then in 2010, I watched the event in full but was unaware of how to join. When I couldn't continue in track and field anymore, I went through every Team USA page at that time and was excited when I saw that bobsled and skeleton were the only sports to have open tryouts!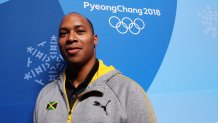 How would you describe your first skeleton run?
I was eager for my first ever skeleton run to get on a sled and hit the ice during my first driving school. I remember being in a room full of new rookies, who have become long term friends now, and everyone being nervous to go…so I volunteered to go first! From the moment I was pushed onto the track from a lower start to the finish line, I knew this what I wanted to do!
WATCH: Take a trip down the Pyeongchang Skeleton course
Local
Breaking news and the stories that matter to your neighborhood.
You are going to be Jamaica's first Olympic skeleton athlete, and Jazmine Fenlator-Victorian is going to be Jamaica's first Olympic women's bobsled pilot. What have you discussed as you prepare to make history for your country?
I look up to Jazmine a great deal and respect her as if she were family. I couldn't be happier for her! We both knew that we were told many times we had the ability and chance to make history and it's a great honor to debut with her! With her previous Olympic experience, her veteran advice to me was to focus, train hard and not focus on titles but development. Now that is possible for both of us to be a part of history that will be something special we always share!
[NATL] Team USA by the Numbers
I loveeeeee to sing and have found it to be very relaxing as well as fun! My musical influences definitely have a wide scale of variety from show tunes, musicals, rock, hip-hop, electric, island, soul and funk. But my biggest influences would definitely be Lincoln Brewster, NF, Phil Collins, John Mayer and Chris Botti.
[NATL] In Photos: North Korean 'Army of Beauties' Cheers on a Unified Korean Team in Pyeongchang
You are also a professional actor and model. How does the nerves before a skeleton run compare to the nerves before an acting or modeling shoot?
I literally just find a space for myself, clear my head and put on some music and dance. Showing up to a modeling or acting gig for work requires you to be naturally loose, teachable, energetic and relaxed to have the best performance. Same thing for skeleton. With all the preparation that goes into training, sliding and recovery, you have to find a way to make it fun, and this team has really brought me out of my shell. So whenever you see me I will ALWAYS be moving to beat, or singing to keep myself relaxed. I learned that from my good friend and former USA teammate Chris Kinney, who will be at the Olympics his first time, and we are going to duke it out in the biggest lip-sync battle of all time!
Copyright NBC Olympics - Pyeongchang