A wintry mix of snow and ice caused for a slippery Wednesday morning commute.
The NBC10 First Alert Weather Team issued a First Alert that was in remains in effect until 4 p.m. in the northernmost suburbs, Lehigh Valley and Berks County where snow will turn to freezing rain and sleet during the mid- to late-morning. The icy weather could linger into the early afternoon.
An earlier First Alert for Philadelphia, South Jersey, northern Delaware and the immediate Pennsylvania suburbs due to some freezing rain, sleet and snow mix that will made roads and sidewalks icy and slippery at times expired at 10 a.m.
By 7 a.m., sleet and ice was falling in Philadelphia and the immediate suburbs with snow falling in the outer suburbs. Track the rain/ice/snow line with our Live Interactive Radar
The wintry weather caused hundreds of schools to open late or close, some going from delayed openings to closures as the morning continued.
The snow will transition to all rain later in the morning except in the Poconos where periods of heavy snow will continue.
Local
Breaking news and the stories that matter to your neighborhood.
Temperatures started in the upper 20s and will rise to the low 40s in Pennsylvania and New Jersey and in the 30s in the Lehigh Valley.
By 9:30 a.m. the precipitation took a break in points south of the city as icy weather continued to fall north and west.
By late morning, warmer air arrives, pushing the rain/mix/snow line to the north. By afternoon, rain will fall, again. By the late afternoon and early evening mostly everyone should see rain with pockets of heavy rain and isolated thunderstorms possible along coastal points.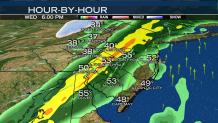 Estimated Snow Totals
Poconos - 6 to 8 inches of snow and sleet
Lehigh Valley, Upper Pennsylvania Suburbs - 2 to 4 inches of snow and sleet
Upper Montgomery, Chester and Bucks counties: around 1 inch
Philadelphia, Lower Pennsylvania Suburbs, Northern Delaware, South Jersey - Coating to an inch of snow with a short period of freezing rain or sleet. After 9 a.m. temperatures will quickly rise above freezing and rain will develop as a warm front lifts northward across the area, bringing an end to any wintry precipitation.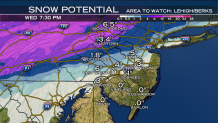 The rain will end between 9 to 11 p.m. in the Lehigh Valley, Pennsylvania suburbs, Philadelphia, South Jersey and Delaware. Showers also may continue through midnight along the Jersey Shore. Scattered thunderstorms are also possible Wednesday evening as the cold front crosses the area.
WED: FIRST ALERT 4 to 10 a.m. (Until 3 p.m. in upper suburbs, Berks County and Lehigh Valley) with snow and freezing rain possible. Rain will move in later in the morning and continue into the evening hours. High: 43
THU (EAGLES PARADE): Mostly sunny, cold and breezy. High: 33
FRI: Mostly cloudy, a shower at night. High: 41
SAT: Increasing clouds. Late showers possible. High: 49
SUN: Rain. High: 54
MON: Partly sunny and seasonal. High: 44