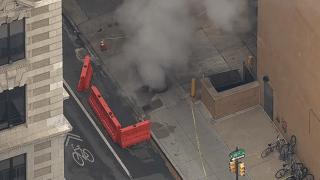 A water main break caused mist to rise in Center City on Monday.
Mist could be seen rising from underground at 10th and Sansom streets around 5 p.m. A spokesperson with the Philadelphia Water Department told NBC10 the mist was caused by a break to a six-inch water main. They are also investigating another possible leak on an eight-inch water main.
Officials have not yet revealed whether any nearby homes or businesses were impacted. No injuries were reported.
Any customer experiencing issues should call the Philadelphia Water Department at 215-685-6300.