Firefighters have extinguished a massive fire at an auto body shop in Fairfield Township, Cumberland County.
The two-alarm fire started at a building at Hyman Automotive at 263 Bridgeton Fairton Road Thursday around 10 p.m.
Shop owner Ennis Hyman described what happened.
"It smells like something burning, I saw smoke... and the whole corner was burning red," Hyman said.
Hyman and some friends tried to use fire extinguishers to stop the blaze but "that was useless," he said. They all fled the building unharmed.
SkyForce10 was over the scene as firefighters battled heavy flames and plumes of smoke.
SkyForce10 returned to the fire scene Friday morning to find a roof caved in. The full extent of damage isn't known, but Hyman said some classic cars stored at the facility appeared to have been saved because a second roof didn't collapse.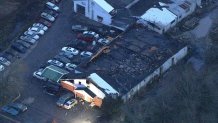 Editor's Note: This story has been updated to reflect the correct location of the fire.