What to Know
The Red Cross is assisting 100 people who were left homeless by a massive apartment fire in North Coventry Township on Thursday.
The fire started at the Ashwood Apartments on 782 Worth Boulevard shortly after 7 p.m. Thursday.
At least seven people, including three firefighters, were hurt.
Flames jumped from unit to unit as a fire engulfed a North Coventry Township, Pennsylvania, apartment building, leaving 100 residents homeless and injuring at least seven people.
The three-alarm fire started at the Ashwood Apartments on 782 Worth Boulevard shortly after 7 p.m. Thursday. A resident told Telemundo 62's Isabel Sanchez that the fire began in a single unit before it quickly spread.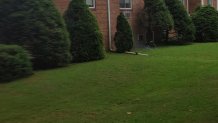 The fire destroyed the entire roof and the building was evacuated with multiple people rescued. Witnesses said at least one person was rescued from the third floor.
"It was popping like fireworks exploding," Oscar Brunner, a neighbor, told NBC10. "Something was fueling it."
Sherry Ruchinski, a resident in the apartment, was on the third floor watering her sister's plants when the fire began.
"I didn't take it seriously. I thought it would be out in minutes," she said. "I came down five minutes later the alarm went off and a fellow was banging saying, 'Get out. There's a fire.'"
Ruchinski watched as her apartment went up in flames.
"That one on fire right now is my living room," she said. "So I'm hoping the next one is my bedroom where my kids' pictures are is okay. But I don't think so. Not by the looks of it."
SkyForce10 was over the scene as huge flames and plumes of smoke rose from the building.
North Coventry Township police say in a statement that three firefighters and four residents were taken by ambulance to hospitals for injuries. At least one firefighter could be seen being taken away on a stretcher.
Local
Breaking news and the stories that matter to your neighborhood.
Fire and medical personnel from Chester, Berks, Montgomery and Delaware counties assisted the Norco Fire Company in fighting the blaze, police said.
Firefighters were eventually able to bring the flames under control. Hot spots and flames, however, continued to flare up inside the gutted structure Friday morning.
Around 100 residents in all were displaced.
Southeastern Pennsylvania American Red Cross spokesperson Sophie Kluthe said in a statement that the organization is providing temporary hotel lodging for about 15 families. Extra safety precautions were being taken due to COVID-19, Kluthe said.
Officials have not yet revealed the cause of the fire.
The investigation is ongoing and involves fire marshals from Chester County, Pennsylvania State Police and the Bureau of Alcohol, Tobacco, Firearms and Explosives.