What to Know
Ryan Pownall is accused of shooting and killing David Jones during a June 2017 traffic stop.
Pownall was fired earlier this year. Jones's death is the second shooting of a civilian in the back in which Pownall has been involved.
He is being held without bail.
A fired Philadelphia police officer charged with homicide for allegedly shooting a fleeing suspect in the back last year in Juniata was denied bail again at a hearing Wednesday.
Ryan Pownall is being held for the shooting death of David Jones last June along Whitaker Avenue. He is the first city officer in years to face a homicide charge for an on-duty shooting.
At Wednesday's hearing, the District Attorney's Office requested that Municipal Court Judge Patrick Dugan hand off the case to a common pleas judge now that a grand jury investigation is complete.
Pownall was officially charged on Sept. 4. A new hearing was set for early October.
In 2013, Dugan became embroiled in controversy for his handling of assault charges against a Philadelphia police lieutenant. Jonathan Josey was charged with punching a woman in the face during a parade in North Philadelphia. Josey was eventually fired and then-Mayor Michael Nutter apologized to the victim.
Still, Josey was acquitted by Dugan despite video evidence showing the punch. Critics of the acquittal then pointed to Dugan's marriage to a Philadelphia police officer. NBC10 reported at the time that the mortgage on his house was lent through the city Police and Fire Credit Union.
None of that was mentioned at Wednesday's hearing, was initially scheduled to be a preliminary hearing that did not materialize. Still, Jones' family and numerous police officers packed the courtroom.
"The defense was trying to deflect from the real merits of the case. If you understood what happened that day .. you understand there was no cause for the shooting," Christopher Norris, a family friend of Jones, said after the hearing. "What he did was cold-blooded murder. It's time Ryan Pownall and those like him be held accountable."
Pownall's attorney, Fortunato Perri Jr., argued that his client's actions were entirely appropriate.
"His training dictated that once you are justified to use your weapon ... you are justified in continuing that action," he said Wednesday.
When District Attorney Larry Krasner announced charges against Pownall earlier this month, he said the charges came after a yearlong investigation by a grand jury. Pownall is charged with criminal homicide, reckless endangerment and possession of a weapon of crime.
Pownall was fired from the police department following an internal review. He turned himself over to authorities on Tuesday.
At the time of the shooting, Pownall had been transporting three people to the department's Special Victim's Unit for an interview. Krasner said the officer pulled across traffic and into a parking lot after seeing Jones.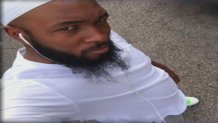 Pownall, who served 12 years on the force, patted down Jones and felt a gun in his waistband, police said.
A witness in back of Pownall's police vehicle watched Pownall pull his service weapon and warn Jones not to touch the gun, police said. The two men then briefly scuffled as Jones turned his back on Pownall and fled, investigators said.
Pownall attempted to fire his service firearm, but it jammed, Krasner said. Jones, who was also armed, threw away his gun and ran in the opposite direction of the weapon, according to authorities.
Surveillance video obtained by NBC10 appears to show Jones running away when he was shot.
"Video recovered from the scene shows that Jones was unarmed and he never turned toward Pownall or gestured in a threatening manner during his (running away)," Krasner said. "As Jones ran, unarmed, Pownall fired at least three shots toward Jones and traffic, hitting Jones twice in the back."
Local
Breaking news and the stories that matter to your neighborhood.
The entire deadly interaction lasted less than 30 seconds.
"Jones' death was not necessary to secure the apprehension of Jones," Krasner said.
It was the second time Pownall was involved in an on-duty shooting where a suspect was struck in the back.
Carnell Williams-Carney was paralyzed in 2010 after Pownall and a second officer fired shots at him as he fled, hitting him once in the back. A federal jury ruled in a civil lawsuit that Pownall and the other officer were justified in opening fire.
Last September, Philadelphia Police Commissioner Richard Ross said the officer used poor judgment in the shooting of Jones.
"Jones was running away from Pownall with nothing in his hands," Ross said.
Pownall broke department policy by making a traffic stop with witnesses in his vehicle, Ross said. Pownall also failed to notify police radio of the traffic stop or call for backup.
Pownall's attorney said Jones didn't have a license for his gun.
Several activist groups held several demonstrations about the shooting, demanding answers in the case.
After a Black Lives Matter protest outside Pownall's home, the city police union president called the protesters a "pack of rabid animals."
"Today is the day that the family of David Jones has been waiting for," said Isaac Gardner, one of the most visible protesters after Jones' shooting. He added that they were happy with the charges, which they had not believed would happen.
The Fraternal Order of Police have called for the charges to be dropped and for Pownall to be reinstated on the force. They also called for Pownall to be allowed bail.
"FOP Lodge 5 and fellow officers stand in solidarity with Officer Pownall and his family," FOP President John McNesby said. "We promise a vigorous defense and expect Officer Pownall to be cleared of all charges and get his job back protecting the community."