What to Know
A tanker truck overturned on the ramp between Interstate 95 and Woodhaven Road Thursday morning and caught fire.
Fire crews battled the flames and thick black smoke for more than an hour.
Two people were hurt.
Update: The ramp reopened after repairs were made Friday afternoon.
A tanker truck hauling fuel overturned and caught fire on an interchange between Interstate 95 and Woodhaven Road Thursday morning, sending black smoke into the air and causing traffic to back up.
Flames and thick black smoke poured from the ramp between Pennsylvania Route 63 and Interstate 95 around 10:15 a.m. The area is near the border between Northeast Philadelphia and Bucks County.
The fire spread from the road to both sides of the ramp at one point. Firefighters continued to battle the flames on the roadway for more than an hour. Smoke could been seen from the surrounding roadways as firefighters laid out nearly a mile of hoses to bring water to the fire scene.
The tanker truck driver and a passenger were transported from the scene in critical condition, Bensalem Township director of public safety Fred Harran said.
The charred remains of the truck, foam sprayed all around, remained on the roadway into the afternoon.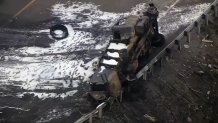 The ramps between Woodhaven and I-95 northbound remained closed into Friday afternoon as crews removed damaged pavement and replaced the guardrail. Bristol Pike (U.S. Route 13) can be used to get around the scene and avoid any slower traffic on Interstate 95 north.
Local
Breaking news and the stories that matter to your neighborhood.
It was unclear what caused the tanker truck to crash and burn. Other vehicles turned around and could be seen off the road as they appeared to be avoiding the fire.
Bensalem police had local schools cancel outdoor recess so children would not be exposed to the fumes from the fire.
Copyright AP - Associated Press