It all started with a flood.
When Lena Kim's basement was under inches of water from a cooking-oil clogged drain after Thanksgiving in 2013, she wondered if anyone else had a similar problem. While talking to her "other mom friends", she found out this cooking oil issue was one many others had faced—including two Indonesian mothers who had immigrated to the South Philadelphia area to raise their families.
"They were talking about how they had these massive floods but didn't know it was happening because of oil going down the drain," Lena explains. "They explained there was a huge cultural difference in the way they treat cooking oil in Indonesia and thought they could just pour it down the drain in America just the way they did there."
Lena, who supports the community efforts and works at the EPA, saw this as an opportunity to give information to this growing immigrant population as well as non-immigrants who do not know what to do with their oil.
"The community explained they had some other ideas about what to do with the oil," Lena says. "They asked questions like, 'Can we recycle it?' 'Can we turn it into something else?' and 'Can we do better than just getting information?'"
These questions are what sparked 'Feed the Barrel'-- the nation's first immigrant-led cooking oil recycling pilot right in the heart of South Philadelphia.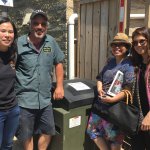 Hani White, a 'Feed the Barrel' leader and member of the immigrant community, explained that the Indonesian community was hesitant at first about the EPA coming to talk, but after a blogger spoke out about the future they would be leaving to their children, ideas quickly changed.
Local
Breaking news and the stories that matter to your neighborhood.
"The EPA members walked into the community and everyone became nervous at the sight of the jacket, they looked like immigration police at first, and our community leaders weren't so excited about the idea. Everyone's arms were crossed… It can be hard to change people's minds," Hani explains. "That blogger made them think about changing the world for the kids, and suddenly everyone was interested."
That moment sparked the community to begin working with Lena to start the 'Feed the Barrel' pilot. The community partnered with the EPA, who help make initiatives like this possible, and Eden Green Energy, a vegetable oil recycling plant located in Chester, Pennsylvania, who would collect the oil from the barrels located around the city.
Domenico Finocchiaro, who is one of the collectors from Eden Green Energy, explains that to make this pilot work, they wanted to make it as simple as possible.
"If you dump your oil down the drain, you're going to have a financial impact somewhere down the line," Domenico explains. "You'll have to fix your home drain system, or you as a tax payer will have to pay for when sewers clog. The problems are enormous… the city to the river to the ocean and then to the beautiful planet, it could all be destroyed. Pour it in this barrel, and you won't have those issues."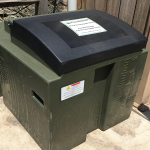 "Additionally, you shouldn't be wiping up your extra oil with a paper towel and throwing it into the trash," Lena chimed in. "When you wipe it with a paper towel and then toss it, that towel gets wrapped in a plastic bag, which then travels to the dump, and then it sits in a landfill. Just another sad ending for that oil."
Domenico explains that after residents pour their used cooking oil, including product like leftover bacon grease and olive oil left at the bottom of a salad bowl, into the big barrel, Eden Green Energy will come and vacuum the oil into a truck. The oil is then transported to the recycling center where it is strained and cleaned before being turned into biofuel, used for animal feed, or even turned into soap.
The new addition of the barrel at Weavers Way Co Op allows a new community to get in on the 'Feed the Barrel' action. Director of Marketing and Community Relations, Crystal Pang, says she is excited to see how receptive shoppers are.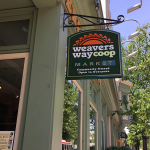 "Our members are very engaged. I think when customers learn about this barrel and I am able to educate and communicate this to everyone, I think they're going to be right on board," Crystal says. "I love this program and how it started because it is similar to Co Ops in a lot of ways in that it's a group of people who identify a need and come together to do something about it."
Hani and the team at 'Feed the Barrel' are excited about the future of the initiative but say with the current political climate, some people are beginning to panic.
"After the election we heard rumors about the EPA losing funding or disappearing all together," Hani said. "The community knew the EPA could go away, Eden Green could go away, but this cooking oil is going to be around forever—we need to step up our game."
Additionally, Lena says this program highlights the good that comes from this community.
"This immigrant community is powerful and this program has helped change perceptions," Lena said. "They're not doing this for the money—no one here is making any money—they're doing it to better this land they live on."
Hani says despite the worry, the group would like to see 'Feed the Barrel' become a full-fledged program with better technology, and hopes conversations with political leaders like Governor Wolf will help them expand to more counties.
In the meantime, the group is excited to see another community feeding the barrel.