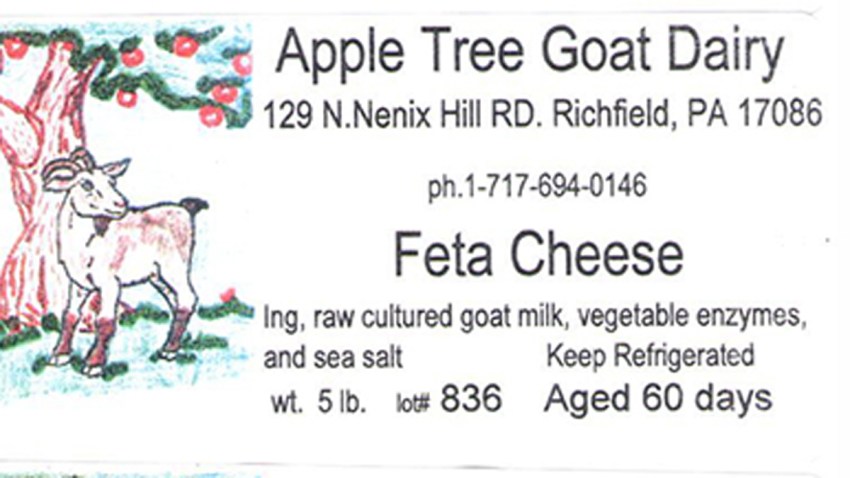 What to Know
Listeria is a bacteria that can cause serious and sometimes deadly infections in young children and the elderly
There have been no consumer complaints or reports of illness related to this issue to date
The recall was implemented out of an abundance of caution
The U.S. Food and Drug Administration is warning customers not to eat goat cheese products made by Apple Tree Goat Dairy, a Pennsylvania-based company, over concerns about possible Listeria contamination, which can cause serious and sometimes deadly infections in young children and the elderly.
The FDA says Apple Tree recalled four lots of products made in March and July in September after samples tested positive for Listeria, and that the company expanded its recall to include all of its goat cheeses later that month. The FDA said it wasn't aware of any public notice to consumers about the expanded recall, so issued an advisory Friday warning customers not to eat the cheese.
The 60-day aged, semi-soft, and hard goat cheeses were sold in New Jersey, Pennsylvania, Washington, D.C., Maryland and Virginia through Lancaster Farm Fresh Cooperative, West End Farmers Market in Virginia and Ambler and Doylestown farmers markets in Pennsylvania.
Local
Breaking news and the stories that matter to your neighborhood.
The FDA said it was concerned about the cheese based on a recent inspection of the Apple Tree manufacturing facility that found Listeria in the company's finished products and in its production environment. [[214381121, C]]
There haven't been any reports of illness. The FDA urges anyone who has Apple Tree goat cheeses to throw them away. Consumers are also advised to thoroughly disinfect any area where they may have had the products.
Although healthy individuals may suffer only short-term symptoms such as high fever, severe headache, stiffness, nausea, abdominal pain and diarrhea, Listeria infection can cause miscarriages and stillbirths among pregnant women.
Young children, frail or elderly people and others with weakened immune systems are more susceptible to infection.