A Philadelphia hero was laid to rest Monday as the funeral for fallen fire Lt. Sean Williamson was held in the city.
Wiliamson, a 27-year veteran of the department, died after being trapped in a collapsed building following a fire along the 300 block of Indiana Avenue in the Fairhill neighborhood on June 18, 2022.
The first viewing for Williamson took place Sunday at the Epiphany of Our Lord Church, while the second viewing occurred ahead of Monday's funeral at the same The Epiphany of Our Lord Church at 1121 Jackson St. in South Philadelphia, the Philadelphia Fire Department said.
On Monday, a walking procession accompanied Williamson from 10th and Snyder streets to the church.
Another viewing was then scheduled from 9 a.m. to 11 a.m., after which the funeral Mass began. Philadelphia Fire Commissioner Adam Thiel was among those who eulogized Williamson.
"On the day he was killed, Sean was working an overtime shift on Ladder 3," the commissioner said. "He wasn't down the shore, enjoying the beautiful weather. He was doing his duty."
Local
Breaking news and the stories that matter to your neighborhood.
Following the Mass, there was a vehicle procession traveling via Interstate 95, Interstate 676, Roosevelt Boulevard and Wissahickon Avenue to Engine 59/Ladder 18/Medic 4 at 2201 West Hunting Park Ave.
The procession then traveled east on Hunting Park and turn right (south) on Broad Street until it reached the Stolfo Funeral Home on 2536 South Broad Street.
Williamson was last assigned to Ladder 18 in the Nicetown-Tioga neighborhood, the PFD said.
Williamson had one son. Before joining the PFD, he was a Marine, the department said.
Four other firefighters and a Licensing and Inspections Department inspector were also trapped in the same collapse as Williamson, but were pulled alive from the rubble, 1st Deputy Fire Commissioner Craig Murphy said.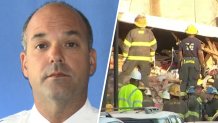 At the department, he taught the fire academy, served with the specialized Rescue 1 company and was a member of PA-Task Force 1, the federal urban search-and-rescue team sponsored by the PFD, the department said.
"He was a great guy, a great fireman and made the ultimate sacrifice protecting this city," Ellie Holt, who worked with Williamson at the Fire Academy said at his funeral.
"We will miss him. We will honor him. And we will respect his example," Thiel said. "God bless Lt. Sean Williamson, God bless the Philadelphia Fire Department."