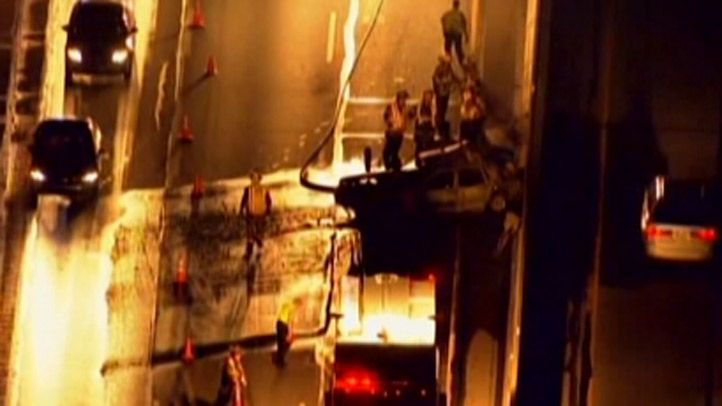 A former state trooper is going to prison for six to 23 months for a drunken driving crash near Philadelphia that killed a young woman in a disabled car.
The sentence Tuesday comes after 42-year-old Barry Searfoss Jr. of Coatesville pleaded guilty to involuntary manslaughter and driving under the influence in the 2012 crash.
Authorities say Searfoss was off-duty when he was driving his pickup truck in the westbound lanes of the Turnpike in Upper Dublin Township on May 18, 2012, around 10 p.m. when he rear-ended a 1997 Lincoln Town Car that was slowing down.

Local
Breaking news and the stories that matter to your neighborhood.
He was on his way home from a golf outing in memory of Phebe Blessington, who was killed by a drunk driver in 1997, Montgomery County District Attorney Risa Vetri Ferman said.
Robin Williams of North Philadelphia was driving around 11 to 16 mph -- her car possibly breaking down -- when Searfoss -- who was going 71 to 76 mph -- struck her from behind, according to court papers obtained by NBC10.
"Because of his level of intoxication Searfoss was not able to maneuver his own vehicle to avoid her and he ran into the back of the car," Ferman told reporters.
The force of impact caused Williams' Town Car to burst into flames, killing the 21-year-old. An autopsy report revealed Williams died from multiple blunt force injuries, thermal burns and smoke inhalation, according to PhillyBurbs.com.
"Trooper Searfoss, while off-duty, failed to abide by those standards when he chose to get behind the wheel of his personal vehicle and drive while under the influence of alcohol," said Trooper Huascar Rivera.
After the wreck, Ferman confirmed that her office would investigate Searfoss for suspected DUI. Investigators say the 11-year veteran of the force failed a sobriety test after the crash with a blood-alcohol level of .188 -- more than two times the legal limit of .08.
The Philadelphia Inquirer reports that the plea agreement in Montgomery County avoided a legal fight over whether Williams' car problems contributed to the crash.
A defense lawyer says Searfoss understands that a life was lost.
Copyright AP - Associated Press