Police are searching for a man who they say was involved in at least three lewdness incidents in Burlington County, New Jersey.
Investigators say a 15-year-old girl and 14-year-old girl were walking to a basketball court on Westerly Drive in Evesham Township Friday shortly before 1 p.m. when they noticed a black Jeep drive by them. They then noticed that the driver, an unidentified man, did not have a shirt on.
A few minutes later the man stopped his vehicle and got out. The girls told police the man was fully naked and ran towards them. The girls ran home and the naked man got back into his vehicle and drove toward Ravens Row, police said. The girls told investigators the man didn't say anything to them during the incident.
Police also believe the same suspect was involved in a similar incident in Medford Township back on December 21, 2016. A woman told police she was walking on Huntington Circle Drive at 2 p.m. when she saw the suspect exiting an older model Jeep Patriot with a white sticker on the left side of the rear window. The man was completely nude except for a pair of tennis shoes, police say. He exited the vehicle, walked to the back, opened the rear hatch, went back inside his jeep and then drove away without speaking to anyone, according to investigators.
After Medford Police posted about the December 21 incident, another woman came forward and said the same man left his vehicle while naked and stared at a trashcan in Medford back on November 30, 2016.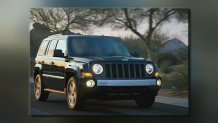 The suspect is described as a clean shaven, heavyset white male with a faded style haircut in his late 30s to early 40s with pale skin, brown hair and an excessive amount of body hair. If you have any information on his identity, please call Evesham Police at 856-983-1116 or Medford Police Central Dispatch at 609-267-8300.