Inspectors will continue to test elevators at Philadelphia's Criminal Justice Center through the weekend after an elevator malfunction left a sheriff's sergeant critically hurt, the mayor's office said Friday.
On Sunday, city officials will determine whether to reopen the CJC for business on Monday. Preliminary arraignments, bail and abuse protection services will be available over the weekend in the building's basement.
The center has been closed since Thursday afternoon when an elevator sling-shotted to the building's top floor and crashed into a machine room.
A sheriff's sergeant inside the car was thrown and suffered several broken bones in his back, officials said. Sheriff's Sgt. Daniel Paul Owens remains in a medically-induced coma following surgery for his injuries.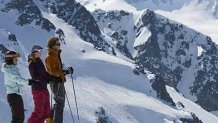 Debris from the crash fell down the elevator shaft onto a car at the first floor. A woman inside suffered minor injuries.
The elevators were last inspected and approved by a state-certified, third-party company on June 14, city officials said.
Local
Breaking news and the stories that matter to your neighborhood.
A cause of the malfunction has yet to be determined.