What to Know
Four teens escaped from the Harborfields Youth Detention Facility in Egg Harbor City. Three have been caught. One remains at large.
The teens overpowered a guard and stole his car, which they later crash. The teens then fled on foot, wearing little clothing.
Schools in three Egg Harbor area districts were closed as a precaution as the manhunt continued into Wednesday morning.
Police captured Michael Huggins Thursday morning. Click here for details.
Three of the four teenagers who police say overpowered a guard and stole his car during a daring escape from a southern New Jersey juvenile detention center were captured Wednesday morning after nine hours on the run.
But, as of Thursday morning, a teen accused of murder remained on the run.
The juveniles escaped from the Harborfields Youth Detention Facility in Egg Harbor City — about 20 miles west of Atlantic City — around 12:20 a.m. Wednesday.
New Jersey State Police and Bridgeton police responding to a burglary call took three of the teens into custody in Bridgeton — about 35 miles from Egg Harbor City, investigators said.
"I do thank those folks for their diligent work, it certainly helped us out a lot," Acting Atlantic County Sheriff Mike Petuskey said.

Michael Huggins, 18, remained on the run Thursday and is considered dangerous. He is accused of killing a man during a robbery in Bridgeton last year.
Police helicopters scanned the area searching for Huggins.
The sheriff's office said the teens overpowered two corrections officers and drove off in one of their cars. They sideswiped a Jeep before crashing into a home and fleeing the scene.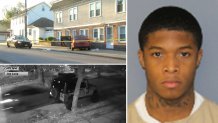 One guard was taken to a hospital for treatment and is expected to be OK.
Sixteen schools in districts including Egg Harbor City, Greater Egg Harbor Regional School District, Galloway Township, Hamilton Township and St. Vincent de Paul Regional School were shut down Wednesday as a precaution.
Early Wednesday, Law enforcement asked Egg Harbor City residents to stay in their homes unless they have to leave and call 911 if they see something suspicious. Stockton University, which is about 7 miles away, also alerted its students of the manhunt and suggested that all dorm doors and windows be locked.
Huggins is 18 (accused of committing a crime while 17), another teen is 17 and two are 16 years old.
The teens were wearing minimal clothing when they escaped — one in a white boxers, a cream shirt and flip-flops and two others in thermal pants, white boxers and possibly a white T-shirt.
Temps overnight in Egg Harbor City dipped into the upper 30 and low 40s.
Local
Breaking news and the stories that matter to your neighborhood.
"More than likely they are gonna be cold, so if they don't have a ride already, they are going to be looking for some type of clothing," Petuskey said during the search. "We don't know if they are going to break into a house, we have no idea."
Harborfields, which is located at Buffalo Avenue and Duerer Street, houses 27 juveniles awaiting court hearings. "Harborfields operates under the auspices of the County of Atlantic, Department of Public Safety and is managed, under contract, by the State of New Jersey, Department of Law and Public Safety, Juvenile Justice Commission," the center's website says.
Authorities didn't reveal what crimes the other juveniles are accused of committing but they did say that due to the severity of the crimes, the teens are considered dangerous.
Anyone with information is asked to call the Atlantic County Sheriff's Office at 609-909-7200.